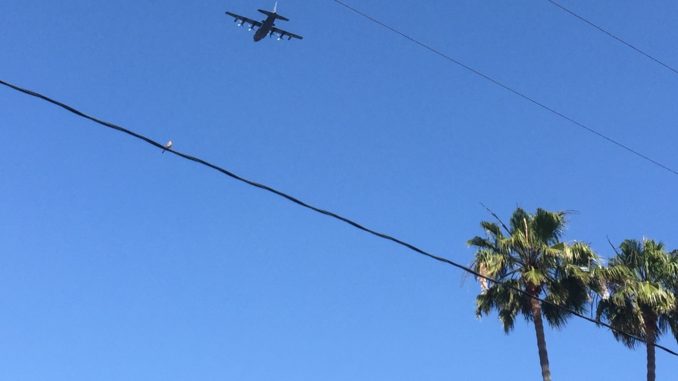 The following was submitted to the Union Tribune Letter to the Editor by UCCA President Barry Bernstein on behalf of University City residents who have informed UCCA of their safety concerns regarding aircraft activity at MCAS Miramar.
Cargo plane, Miramar departure over Florey Street, May 18, 2017

University City residents, in particular, those living just west of 805 across from Miramar, MCAS runways, have been trying to find a "neighborly" way to open a dialogue with the military and FAA staff to discuss flight take-offs and noise levels. Residents have come to the UCCA meetings to voice their concerns.

Home owners living in this vicinity are there by choice and expect aircraft noise, but when aircraft do not follow the prescribed departures and are directly overhead at low altitudes, it becomes a safety concern. Many of these same residents were living there in 2008 when lives were lost in the tragic crash of a Miramar based aircraft.

A forum for these safety issues to be heard and addressed is essential. Particularly in advance of the expected arrival of the noisier and controversial F-35C jet aircraft. City Council member, Barbara Bry and U.S. Congressman Scott Peters are urged to reach out to the Marines at Miramar, to encourage them to establish a dialogue with their "neighbors" across the freeway.
Note: This letter, in its entirety, was published in the July University City newsletter, page 4. An edited version of this letter was published in the San Diego Union Tribune on June 27, page B5, in the Letters to the Editor section, as "MCAS Miramar could be a better neighbor".
For related posts, visit http://www.universitycitynews.org/category/miramar/