There are now three ways that UCCA can help promote your business:
Print advertising in our monthly newsletter
Buy Local promotions to our UCCA members
Sponsored posts on our website. 
For more information, visit http://www.universitycitynews.org/2017/09/15/promote-your-business-when-you-advertise-in-the-university-city-newsletter/
---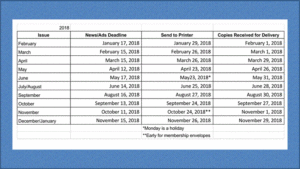 Advertise in our local newsletter which is hand delivered to over 6,000 homes each month. Send your advertisement as a jpg or pdf file to Terri Day at UccaAds@hotmail.com. Reservation for ad space is accepted on a first come-first served basis beginning the 1st of the month preceding publication. Ad space is limited. We have 10 publications per year.
Deadline for ad payment is approximately the 15th of the month preceding publication. Download PDF UCCA Newsletter Schedule 2018
---
Width by Height: 
Business Card 3.5″ x 2″ – $60

Quarter Page 3.5″ x 4.5″ – $150

Half Page 7.5″ x 4.5″ – $300 

Full Color 1/2 page back cover – $500 (contact Terri Day at UccaAds@hotmail.com for details and to reserve space)
Full Color, full page, back cover – $1000 (contact Terri Day at UccaAds@hotmail.com for details and to reserve space)
You may pay for ad by check made out to UCCA and delivered to the Postal Annex at 3268 Governor Drive; or mailed to UCCA, 3268 Governor Drive, Box 121, San Diego, CA 92122; or pay for advertising online through PayPal; see below.
---
UCCA distributes a monthly newsletter to households and many businesses in the southern University City community. 10 issues per year – 6,000 copies per issue.
Here are the article guidelines: You are welcome to write and submit articles that pertain to the 92122 University City community and residents. Articles should be 250 words or less, text only. Photos must be high resolution JPEG format. Include your complete name, address, phone and email and send to the UC newsletter editor at UccaEditor@gmail.com. The deadline is usually the 15th of the current month for publication in the following month. The newsletter can fill up before the deadline, so submit early.
In addition to the print newsletter, University City News (UCCA) has recently converted to a newsfeed format. Visit our home page for the latest University City News. Submit your events or news items on the Contact Us page.
To view current and past print newsletters, visit http://www.universitycitynews.org/ucca-newsletter-archives/