The Summer Concert Series 2017 has concluded. The 2018 season will begin after the 4th of July Celebration. Thanks to all our bands, guests, and volunteers. See you next year! 
---
The Summer Concert Series and all the Summer 2017 events at Standley Park drew large crowds and provided lots of entertainment value. Take a look at all the pictures and information that were published in the September newsletter: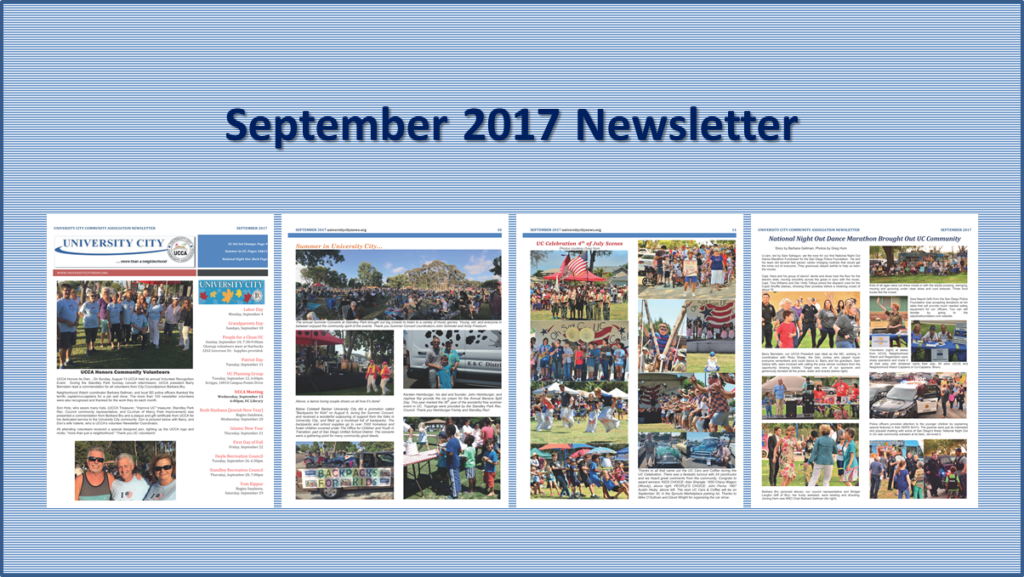 ---
For more information about the 2016 concert series, visit http://www.universitycitynews.org/summer-concerts-in-standley-park/
For more information about the Legends, visit http://www.legendsrevue.com/index.html.
---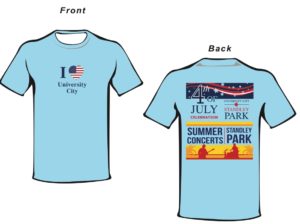 Make a $5 donation, get a free promotional/souvenir T-shirt.
As an added bonus, University City Community Association will have "I Love University City" T-shirts available to demonstrate our community spirit; and to support and promote summer events at Standley Park.
UCCA is asking for a donation of $5 per shirt as a fundraising effort to benefit Standley Park Recreation Council (SPRC) and UCCA. Quantities and sizes are limited and available on a first come, first served basis, only at the remaining Summer Concerts.
---
University City Standley Park 2017 Summer Concert Series
Summer is just around the corner and so are UC's annual summer concerts at Standley Park. This year's series has 8 concerts with a variety of musical styles.
As in recent years, the concert committee has made an effort to include as many professional bands with local UC residents that we know of. Come out and hear your favorites and also check out some of the musical genres you're not as familiar with.
Every band is one of the best in San Diego at their musical style. Hopefully there's something for almost everyone. We hope to see you this summer.
Sunday

,

July 9, 5 PM

– Forecast–Jazz Fusion – with UC Resident Greg Pardue Celebrating Their 40th Anniversary

Sunday, July 16, 5 PM

 – Baja Bugs–Beatles Tribute Band

Sunday, July 23, 5 PM

– Rifftide–Classic Rock – with UC Resident Jill Harvey

Sunday, July 30, 5 PM

– Full Strength Funk Band–soul and R&B – with UC Resident Pamela Gallo
Tuesday, August 1, 5:30 – 7:30 PM – Dance Marathon – fundraiser to benefit SDPD

Sunday, August 6, 5 PM

– Relative Minors and Friends–Classic Rock – with UC Resident Greg Zinser

Sunday, August 13, 5 PM

– Teaser– Arena Rock – with UC Resident Rick Kern

Friday, August 18, 6 PM

– Sully and the Blue Eyed Soul Band–Soul and R&B – with Radio & TV Host Bob "Sully" Sullivan

Friday, August 25, 6 PM

– The Legends Show Band– 50's and 60's oldies
All concerts are at Standley Park, 3583 Governor Drive, University City, 92122
All concerts are subject to cancellation due to inclement weather.
Sunday concerts are from 5 to 7 PM
Tuesday dance marathon 5:30 PM
Friday concerts are from 6 to 8 PM
For more information contact the SPRC President and the Concert Committee:
For related posts, visit http://www.universitycitynews.org/category/parks-recreation-dept/
For information about the 2016 Summer Concert Series, visit http://www.universitycitynews.org/2016-summer-concerts-in-standley-park/