Artists sought to paint transformer boxes on Governor. For details, visit http://www.universitycitynews.org/2016/09/30/local-artists-sought-to-paint-transformer-boxes-on-governor/
---
April 2017: Although her specialty is Asian brush painting, Stella's her talent is diverse is not limited to ink and watercolors. Take a look at her recent design on the transformer box in front of United Oil on Governor Drive and Genesee Avenue.

If you look closely, you will be searching for various bees, butterflies, rabbits and other insects of nature. Previously, Stella painted two other utility boxes, one being across the street in front of the Mobil Gas station.

"I chose to paint the colorful spring flowers to compliment the tropical flowers that I had done few years ago on the transformer across the street at the Mobile gas station," Stella explained. "The idea of painting little creatures among the flowers for children to find came when I had a conversation with Barbara. The number of creatures did not have any real significance.  I painted some that are obvious and others a little harder to find so kids at different ages can have fun," she said.


She enjoyed the immediate feedback from those walking by. "As I was painting, it was a pleasure to hear feedback from many pedestrians that said the liked the bright color to cheer up the spot the transformer sits.  My goal is to bring joy and stimulate curiosity to others," she explained.
The Transformer Art Project is sponsored by University City Community Association (UCCA). For more information, visit http://www.universitycitynews.org/transformer-art-project/

For related posts, visit http://www.universitycitynews.org/category/beautification/
---
February 2017: From Concept to Reality: UCCA's recent Transformer Box Art installation! 
It started as an idea to beatify the intersection of Governor Drive and Genesee Avenue by painting one of the SDG&E transformer boxes and using the new University City banner designs as inspiration.
Barbara Gellman, representing the University City Community Association (UCCA) beautification committee, contacted graphics designer Andrew Sanchez of AlphaGraphics (on Governor) to gauge his interest. Andrew had already created the eight new banner designs currently hanging on light poles in UCCA's banner district.
Andrew enthusiastically agreed, and stated that he wanted to challenge himself to create a wraparound, continuous design, to cover all for sides of the highly visible box. UCCA's design team asked him to include our community name as an integral part to the design to provide place identification to both residents and visitors passing through the busy intersection.
---
Take a look at the completed project and the transformation! We know you'll agree with us that this transformer box art installation project, and all our UCCA-sponsored painted transformer boxes in south University City, add both a sense of community pride and an appreciation for public art to our street-scape.
Note: The 2016/2017 Transformer Box Art Installation project was funded by the County of San Diego through a Community Enhancement Program grant. UCCA thanks former County Supervisor Dave Roberts for his support of this project, as well as for the Street Banner Design and Installation project.
For related posts, visit http://www.universitycitynews.org/category/beautification/
---
December 2016: Universaurus Urbem beginning to take shape!
There is a new dinosaur in town! In a salute to University City, literacy and the 'Dinosaur Park' playground at University City Gardens Park at Governor Drive and Gullstrand Street, amateur artists Guido & Patricia Klap and Mychang Krotosky are collaborating to create an original work of art on the northeast corner of Governor and Gullstrand featuring a newly discovered species of dinosaur (Universaurus Urbem) who just happens to love reading.
---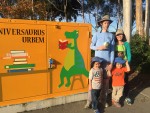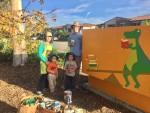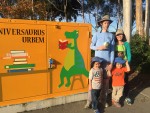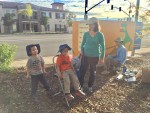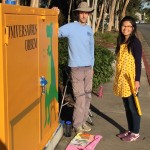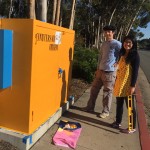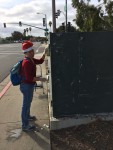 ---
Besides the actual painting, it takes a lot of behind the scenes effort to create a public art piece: developing a suitable design and color scheme, cleaning the box, putting on the primary coat, and the stenciling of letters and design, to name a few.
These local artists expect to have their work completed in the next several weeks. Watch for its transformation every time you pass by.
---
November 2016: Girl Scout Troop 4109 from Curie Elementary is beautifying our neighborhood by transforming a transformer box at Governor Drive and Agee Street.
This beautification project is sponsored by University City Community Association (UCCA) and funded through a grant from the San Diego County Board of Supervisors.
To learn more about grant programs available through San Diego Board of Supervisors, visit http://www.supervisordaveroberts.com/. For related posts, visit http://www.universitycitynews.org/category/beautification/
---
In March, 2016, local artist Julie Dennis transformed an electrical transformer box in front of Chase Bank at Governor and Edmonton. This public art installation was the most recent in UCCA's transformer box beautification project along Governor Drive.
University City Community Association has applied for a grant from the County of San Diego to paint additional boxes along Governor. Stay tuned for updates.
---
University City Community Association Transformer Art Project:
---
---
---
---
---
This on-going public art project got its start in 2010. The talented  artists not only painted creatively, but they interacted with folks walking by who were curious about their artistic  endeavors. The Rubics cube on the Standley Middle School corner of Radcliffe and Governor drew a huge audience of admirers. "The Miller men," as they were called,  neighborhood toddler triplets, frequently stopped by the  Marketplace property near Governor and Regents to check on the progress of two boxes, an aquarium and zoo animals.
In front of Curie School, U.C. artist Deanna Ditzter painted a beautiful scene of mother and child reading.  She also spent time creating horses in motion on a box at the corner of Governor at Gullstrand. Unfortunately, SDG&E changed the electrical box and that masterpiece disappeared.
More recently, a transformer box at Agee and Governor was embellished with silhouettes of children playing in the sunshine. Public art, whether it is street banners or painted electrical boxes, helps make a community special. Take a look.
---
Notes: The transformer art project is funded and paid for with University City Community Association membership dues. Thanks, members! Join UCCA today at http://www.universitycitynews.org/join-ucca-today/
If you have a news item to share, please submit your story through UCCA's Contact Us link at http://www.universitycitynews.org/contact-us-or-volunteer-in-uc/
Review article guidelines at http://www.universitycitynews.org/ucca-newsletter-archives/
What do Facebook, Twitter, Nextdoor, ImproveUC and UCCA have in common? They are all ways neighbors can connect with neighbors and the University City community. Create a post, start a conversation, share the news, organize an event, keep in touch, take a look: