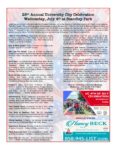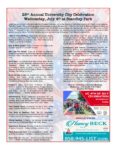 UC 4th of July Celebration 2018 Schedule of Events
For more information about the UC 4th of July Celebration 2018 visit:
Fun Run and 5K update: No pre-registration this year. Race registration and bib pick-up will occur at the Standley Park Recreation Center on July 3 from 5:00 – 7:00 PM; and on July 4 by Swanson Pool beginning 6:30 AM. For all the details, download a copy of the registration form at 2018 Celebration Race Registration Form PDF
Snow play area and car show and much more planned for the UC Celebration!
For information about the UC 4th of July Celebration 2018 visit:
UC Celebration.com at http://uccelebration.com/
Volunteer Signup at https://www.volunteersignup.org/83YM3
UC Celebration Facebook at https://www.facebook.com/UCCelebration/