Welcome to the UCCA Website!
Serving the community.
The April 2014 Meeting Minutes are now available on the Meeting Minutes page; click on the link in the right navigation column or go to http://www.universitycitynews.org/ucca-meeting-minutes/
The April 2014 Newsletter is now available in online version; go to http://www.universitycitynews.org/newsletter-info/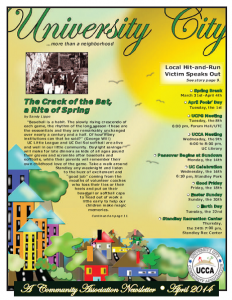 April newsletter highlights include:
* The Crack of the Bat, a Rite of Spring
* Local Hit-and-Run Victim Speaks Out
* Message from President Barry Bernstein
* Donation from Scripps Health
* Keep UC Litter Free
* Take a Look Into the Future of UC
* Community Stage Update (ImproveUC)
* Food Truck Schedule
* Garden Club
* Taste of the Triangle
* 3rd Annual Larry Yandel Jr. Memorial Youth Fund Co-Ed Softball Tournament
* and much more!!