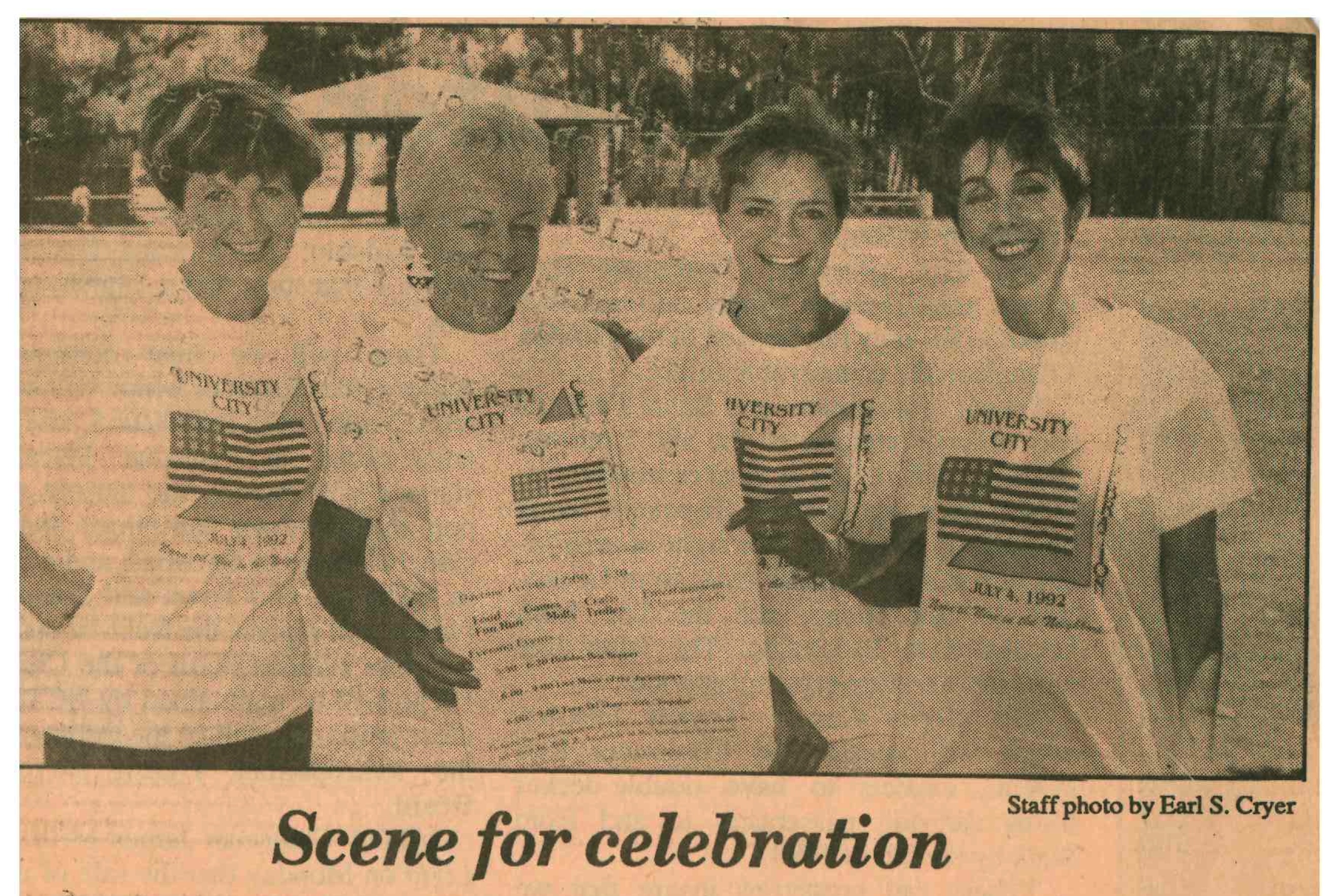 Sandy Lippe has kept much of the UC Celebration history alive, not only by her involvement in the annual event, but in keeping some of her files from back in the day. Her file included a newspaper clipping (see illustration) with the caption:
"In a matter of days, Standley Park will come alive with the sights, sounds and smells of the UC Celebration. Event organizers Sandy Lippe, Left, Lenda Paris, Sue Detisch and Phyllis Speer are anticipating the scene here July 4: There will be games, crafts, swimming, a fun run, live music (plus a DJ for the younger set), a catered box dinner… (purchase tickets at UC Pharmacy, Standley Rec Center or Baskin Robbins) and much more during the all-day bash."
First off, who remembers the UC Pharmacy by the then Henry's (now Sprouts), and the Baskin Robbins where the UC Yogurt is now?
And yes Sandy Lippe was involved in the creation of the UC Celebration.
She remembers that "I tried to get a parade in University City because I grew up in Stratford, Connecticut, where each patriotic holiday the American Legion put on a huge parade on Main Street. However, the permit process was unbelievable and police weren't available to man each street that intersected with Governor Drive. So we switched to UC Celebration at Standley Park. Sunny Pippin agreed to co-chair the first one, and we enlisted Sue Detisch, Lenda Paris, Bob Vilven, Phyllis Speer, Bonnie Hornbeck, Mary Mathis and others to kickoff a July 4th UC Celebration to keep folks at home and take a page out of New England and mid-western celebrations."
---
Early fliers for the UC Celebration listed events that included a Beard Growing Contest, Bingo, Sheriff and Jail, Soccer Tournament, and the Molly Trolley. Good times, good times.
Fast foreword to today?? The 2019 UC Celebration will feature a UC Cars and Coffee Show, a snow play area, a mechanical bull, a 5K race and pancake breakfast, a bike and pet parade, kids activities, vendor booths, all day music and entertainment and much more. Make sure to read about this year's UC Celebration at https://uccelebration.com/
---
Sandy Lippe's article was first published in the June 2015 UCCA newsletter; this post has been updated.