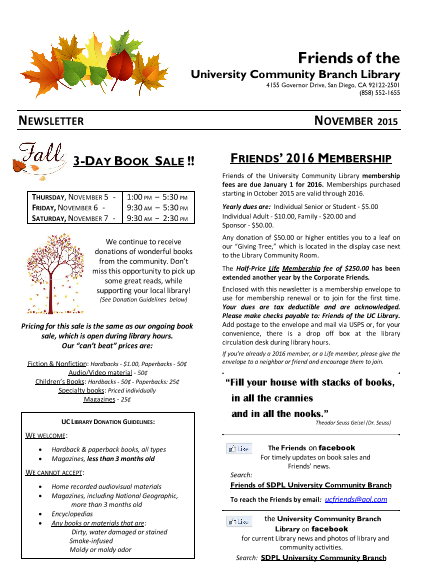 Submitted by Friends of the University Community Branch Library:
The Fall book sale takes place:

THURSDAY, NOVEMBER 5 – 1:00 PM – 5:30 PM
FRIDAY, NOVEMBER 6 – 9:30 AM – 5:30 PM
SATURDAY, NOVEMBER 7 – 9:30 AM – 2:30 PM

We continue to receive donations of wonderful books from the community. Don't miss this opportunity to pick up some great reads, while supporting your local library!

Pricing for this sale is the same as our ongoing book sale, which is open during library hours. Our "can't beat" prices are:

Fiction & Nonfiction: Hardbacks – $1.00, Paperbacks – 50₵
Children's Books: Hardbacks – 50₵ – Paperbacks: 25₵
Audio/Video material – 50₵
Specialty books: Priced individually
Magazines – 25₵
Review the Friends' November newsletter at Library on Governor Friends Newsletter November 2015
---
Note: If you have a news item to share, please submit your story through UCCA's Contact Us link at https://www.universitycitynews.org/contact-us-or-volunteer-in-uc/.  
Review article guidelines at https://www.universitycitynews.org/ucca-newsletter-archives/
What do Facebook, Twitter, Nextdoor, ImproveUC and UCCA have in common? They are all ways neighbors can connect with neighbors and the University City community. Create a post, start a conversation, share the news, organize an event, keep in touch, take a look: