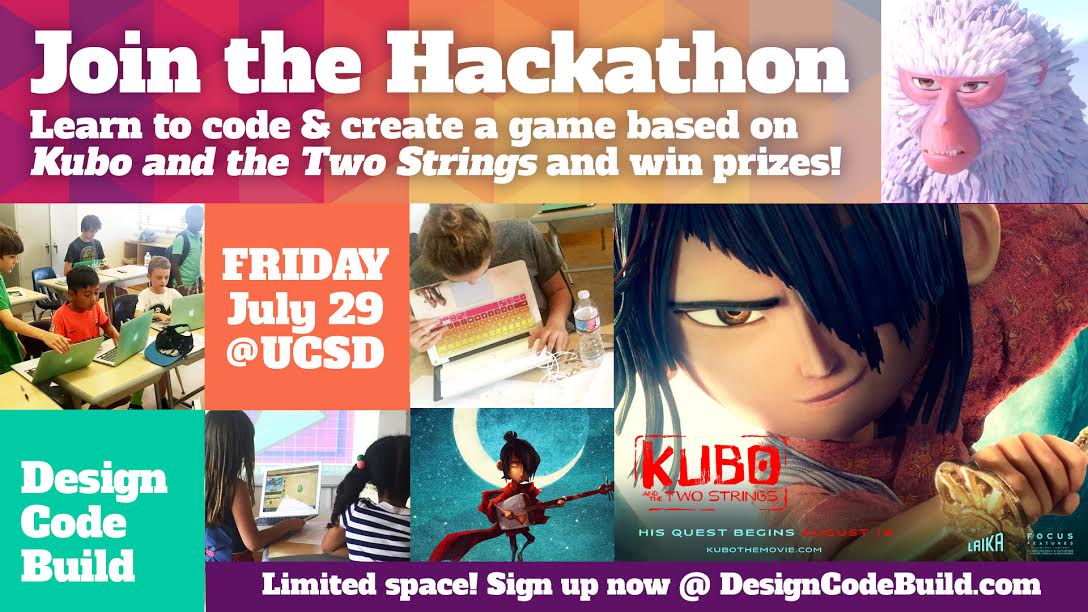 Courtesy of Catherine Eng, Founder/Instructor/Parent, Design/Code/Build, A Coding Academy for Girls & Boys:
It's the San Diego coding event of the summer!

Kids between the ages of 5-17 and any and all levels of design and coding experience are welcome. We will screen the trailer of the upcoming Focus Features animated film, "Kubo and the Two Strings", and kids will have a chance to brainstorm a cool idea for a game based on the movie, and work together on their own or in teams with friends to code their games in Scratch.

We will provide beautiful art assets from the movie to work with, and our expert coding coaches will be on hand to guide kids and help them complete their games. Cool prizes from the movie including advance movie screening passes will be awarded by a representative from the film, and kids will have a chance to present their games to the audience at the end of the afternoon.

Join us for the day on 7/29! Space is limited, so don't miss out. Sign up now at http://designcodebuild.com/.
---
If you have a news item to share, please submit your story through UCCA's Contact Us link at https://www.universitycitynews.org/contact-us-or-volunteer-in-uc/
Review article guidelines at https://www.universitycitynews.org/ucca-newsletter-archives/
What do Facebook, Twitter, Nextdoor, ImproveUC and UCCA have in common? They are all ways neighbors can connect with neighbors and the University City community. Create a post, start a conversation, share the news, organize an event, keep in touch, take a look: