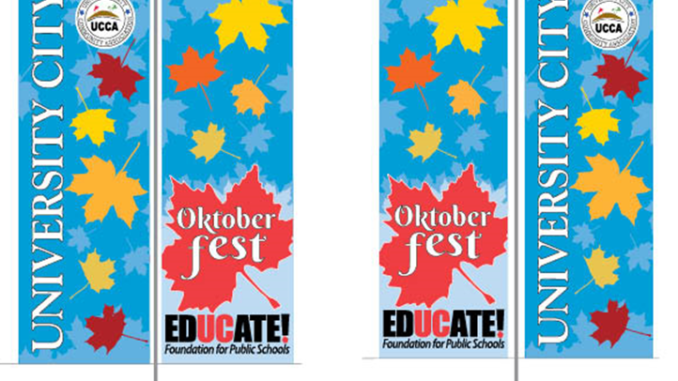 Courtesy of Barry Bernstein, UCCA President:
Neighbors, it's nearing the end of summer, and our schools are all in session. Please watch for our children crossing streets. UCCA hopes this Labor Day Holiday will give you time to relax and prepare for the coming Fall months. It's been a busy "banner" year so far…as I'm sure you've noticed all the beautiful new street banners on our major streets. This month new Fall banners publicizing EdUCate! and University City will be proudly displayed along Governor Drive. Money for these and other new banners has been provided by a San Diego County Neighborhood Enhancement Grant award to UCCA.

This summer, preoccupation with serious National events may have caused some of us to become TV news addicts, real or "fake". On the local front, "a huge crowd watching the solar eclipse surprised our library staff this past August, as there were hundreds of interested families standing in long lines all the way down the sidewalk to Carl's Jr. UCCA was proud to participate and support the annual Standley Park 4th of July "Celebration" and the Summer Concerts.

Barbara Gellman and your neighborhood watch captains organized the UC National Night Out/"Dance Marathon" at Standley Park in early August to honor and support our local police. Major donors to this event include Costa Verde Shopping and University Square shopping malls.

And on Sunday, August 13th, UCCA honored its many community volunteers. Our councilperson, Barbara Bry provided a commendation for all UCCA's volunteers. Barbara Gellman and two local police officers, (Officer Crawford grew up in UC), thanked the Neighborhood Watch captains for their support of their neighbors and the SD Police. Our many newsletter volunteers were also recognized. In acknowledgment of their community service all volunteers were given a specially designed pen featuring the UCCA logo and motto. Don Hotz, UCCA treasurer, Improve UC treasurer, Standley Park Board member, and Co-chair of "Marcy Park Improvements" was designated as our "Volunteer of the Year".

If you've dared to drive north on Genesee, north of Nobel, up to the UCSD campus entrance/Scripps Hospital this summer, you are aware of the current construction taking place…and it looks like the various street and building projects will be continuing for a year or so. Then along will come the Mid-coast trolley line…which it too will create traffic congestion some time. Westfield has begun construction of their 24-story apartment building, and that has created additional traffic around the UTC area.

A proposed major water/pipeline to the purification plant off of 805 will begin next year…coming north of Clairemont Mesa Blvd on Genesee up to Nobel and turning east. Costa Verde Regency Center will be submitting their environmental impact report to the City Council in October, as they begin their planning for a major renovation. And, there are plans for two more high-rise apts. to be built at La Jolla Village Drive and Genesee.

The acknowledged gridlock on Genesee at commuting times is a fact, and most likely will only get worse. But what happens when the inevitable traffic accident occurs on Genesee. How would commuters and those of us who live in UC get from one place to another? Would our first responders be able to attend to emergency situations in adequate time? In my opinion, when it comes to "safety" in our community, all options should be available to consider.

That leads me to my final comments…the legal case against the City for removing the Regents Road Bridge and Widening of Genesee from our current Community Plan has begun. Attorneys met on August 11 to set the procedural calendar. UCCA will continue to keep you informed of the current status on its website, NextDoor postings and of course in our monthly newsletter.

My best wishes to those Jewish families in our community who will be celebrating Rosh Hashannah and Yom Kippur this month. UCCA and Standley Park Rec. Council have created a beautiful "I Love University City" tee-shirt for everyone to celebrate and reflect pride of the community we live in…a "donation" of only $5.00 is suggested. Tee-shirts are available at our monthly meetings at our Community Branch Library the second Wednesday of the month.

Thanks again to all of our many volunteers…you are what makes University City, "more than just a neighborhood". Have a great September everyone…please feel welcome to join us at our Sep. 13 meeting, 6 PM at our Community Branch Library at 4155 Governor Drive.
Please note status update on hearing on the Regents Road Bridge: Regarding the removal of the Regents Road Bridge from the Community Plan, the scheduled August 11th Case Management Conference with the attorneys for both sides and the Judge took place as scheduled. The Court set future dates for the filing of Opening Briefs and Reply Briefs in October, November and December, 2017, pending the Certification of the Administrative Record by September 6. The Trial (in the form of a Hearing before the Judge where both sides present their arguments) is scheduled for January 4, 2018. We will inform the community of any future developments through the newsletter.
For related posts, visit https://www.universitycitynews.org/