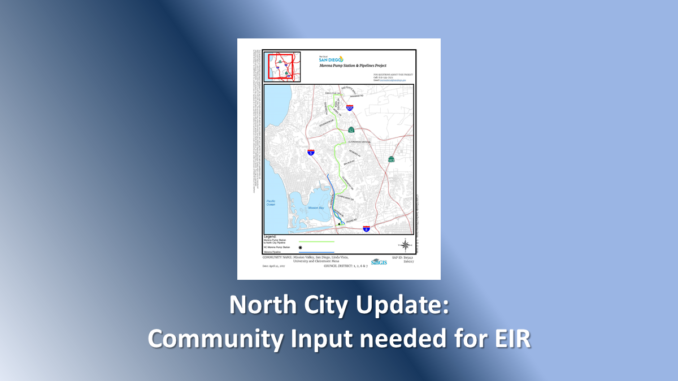 Courtesy of Barry Bernstein, UCCA President:
Proposed 'Pure Water' pipelines

On Wednesday, October 25, I attended the University Community Planning Group (UCPG) committee meeting to discuss the Pure Water proposed sewage line through Clairemont and University City from Clairemont Drive and Clairemont Mesa Boulevard north on Genesee, then on Nobel Drive, Town Center Drive and Executive Drive to the Water Reclamation Plant.

Janay Kruger, UCPG chair, ran the meeting and provided information and strategies on how everyone there, and others, can get involved in protesting the proposed Pure Water pipeline alignment through University City on Genesee Avenue.

Many strategies were discussed from writing letters to signing petitions, as well as hiring a leading community activist attorney to draft a formal response to the City's Water Department draft Environmental Impact Report (EIR). According to those who have studied it, the huge proposal is lacking in specific details on its impact to our community, schools, and even the problems of the materials planned to be used in its construction.

We all should become aware of the potential impact this project may have on the quality of life of all University City residents, and find ways to communicate and publicize to our residents ways in which they can voice opinions and concerns.

Action Item: One action to take now is to contact Councilmember Barbara Bry's office and ask her to support a City Council resolution to halt the planning and seek other locations for the project that won't have such an impact on our residents, schools, and businesses.

Councilmember Barbara Bry (District 1)
City Administration Building
202 C Street, MS #10A
San Diego, CA 92101
(619) 236-6611

Action Item: Another action item is to review the draft Environmental Impact Report (EIR) for the Pure Water San Diego Program, North City Project. It is available for public review and comment through November 21, 2017, and can be found at https://www.sandiego.gov/water/purewater/purewatersd/reports
Action Item: And, from Janay Kruger, UCPG Chair, attend the next University Community Planning Group (UCPG) meeting  on November 14. The meeting starts at 6 PM but the Pure Water agenda item probably won't come up until 7 PM.  The location is the Scripps Office building, 10010 Campus Pointe Drive, first floor. Open parking, no charge.
For related posts, visit https://www.universitycitynews.org/?s=pure+water