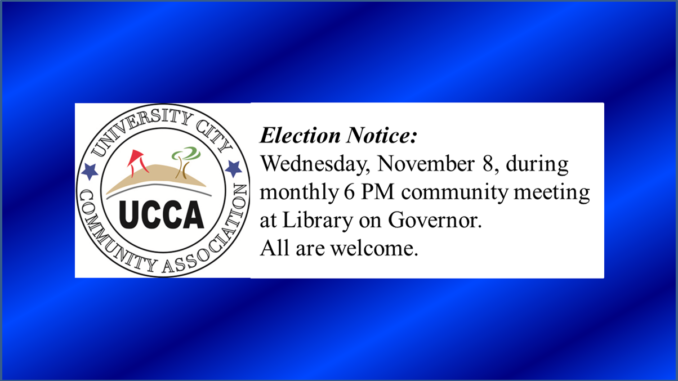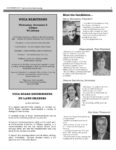 From Nominating Committee Chair Mack Langston: University City Community Association (UCCA) will be electing its officers for the 2018 calendar year during the community meeting on Wednesday, November 8, at 6 PM, at the University Community Library, 4155 Governor Drive, San Diego.
Positions that will be voted upon are the following:
President – Current nominee, Barry Bernstein
Vice-President – Current nominee, Diane Ahern
Secretary – Current Nominee, Deanna Ratnikova
Treasurer – Current Nominee, Don Hotz
Additional nominations will be accepted at the election meeting. In order to run for office, you must be a member in good standing and have attended at least two UCCA meetings during this calendar year.
If you are interested in running for office, or if you have any questions concerning the election process, please contact me. Thank you, Mack Langston Chair UCCA Nominating Committee (619) 818-4205.
---
UCCA BOARD RECOMMENDS BY-LAWS CHANGES, by Barry Bernstein
At a special sub-committee meeting on October 22, UCCA Board members recommended a number of changes in their by-laws.
A complete listing of those recommendations can be found on the UniversityCityNews.org web site at https://www.universitycitynews.org/2017/10/25/ucca-special-notice-bylaws-recommended-changes/
Among the recommendations, which will be voted upon at the November 8 Election of Officers meeting, is a recommendation that the four elected officers serve two-year terms, and that the President-elect may only serve for two consecutive terms.
If passed, this recommendation and all others will take place immediately.
Please note: By-laws changes require a 2/3 approval vote of the entire Board.