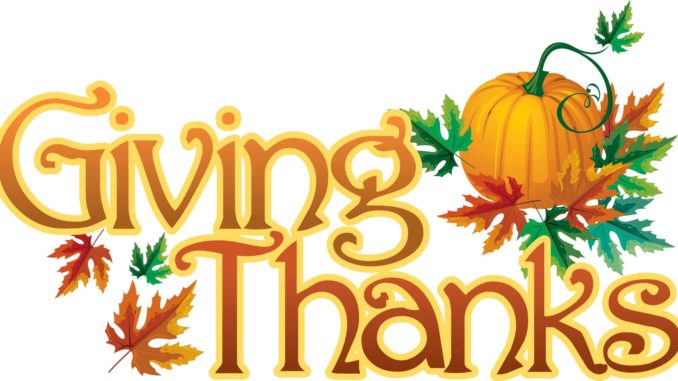 Courtesy of Garry Kachkovsky:
A three day communal feast in the fall of 1621 between the Pilgrims at Plymouth Colony and the native Wampanoag Indians is popularly celebrated as the origin of Thanksgiving. It is believed, however, that there were several other thanksgiving celebrations before the famed Plymouth Rock observance.

The first of this American Tradition probably involved the Spanish explorer Francisco Vasquez de Coronado about 80 years prior. He and sixteen-hundred of his men held a celebration while camping in modern-day Texas. About 23 years later (June of 1564), in present-day Florida, French settlers held a Thanksgiving Day feast. In 1607, English pioneers in Maine had a harvest festival with the Abenaki Indians. And, after a hard winter in 1610, colonizers observed "Thanksgiving" in Jamestown when supply ships arrived transporting food.

In 1789, our first President George Washington proclaimed November 26 to be a day of national thanksgiving and prayer. But, it was not officially recognized as a holiday until 1863, when in the middle of a Civil War, President Abraham Lincoln summoned the country to observe the last Thursday of November as a day of "Thanksgiving and Praise". Then almost 80 years later, President Franklin Roosevelt signed legislation establishing the holiday on the fourth Thursday of November.

We are all blessed to be living in a community with such beauty, spectacular wild life, low crime, great schools, proximity to the beaches and wonderful people. When looking outside of our personal lives in University City, others haven't had it as good. Global poverty continues to be a problem. The problem, however, is getting better. The World Bank defines extreme poverty as living on less than $1.25/day or $456/year. According to the World Bank, more than 1.3 billion people live in extreme poverty (the world's current population is 7.44 billion).

The good news is that nearly 1 billion people have been taken out of extreme poverty since 1990. The number of people living in extreme poverty in 1990 was 43% and today it stands at 18%. Open markets, capitalism and globalization have led to this impressive drop in just the past few decades.

In 1949, Harry Truman said, "More than half the people in the world are living in conditions approaching misery. For the first time in history, humanity possesses the knowledge and skill to relieve the suffering of those people." Well, it has taken much longer than our 33rd President had hoped, but the world economy has recently been lifting and improving the lives of many at an incredible pace.

We hope this Thanksgiving you'll be able to reflect on what we have to be thankful for, whether it's family and friends around the table, good health, living in University City or simply the quality of life we enjoy compared to others living on $456/year.
If you have questions regarding financial matters, give Garry a call at 858-450-9711 or email at garry@kachkovskyandfisher.com.
Kachkovsky and Fisher is a Registered Investment Advisory Firm. This information is general in nature, is not a complete statement of all information necessary for making an investment decision, and is not a recommendation or a solicitation to buy or sell any security. Investments and strategies mentioned may not be suitable for all investors. Past performance may not be indicative of future results. Investors should consider the investment objectives, risks, charges and expenses associated with savings plans before investing.
Editor's note: This is sponsored content, purchased by the author, and reflects the author's views. It may not reflect the views of UCCA or University City News. Sponsored content must conform to UCCA's Bylaws. Publication does not constitute an endorsement. For more information about sponsored content, contact us at https://www.universitycitynews.org/contact-us-or-volunteer-in-uc/
For related posts, visit https://www.universitycitynews.org/category/sponsored-content/