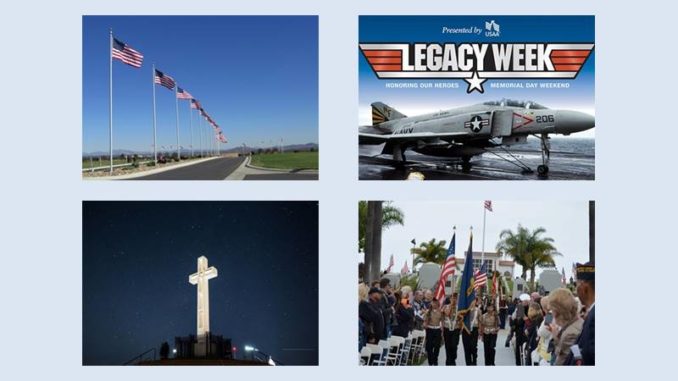 While we enjoy everything San Diego has to offer this weekend, please take some time to remember all of those that gave their lives in the service of the United States Armed Forces at one of the many Memorial Day activities.
Sunday May 27: Miramar National Cemetery Veterans Memorial Service. Honored Guest: Thomas G. Bowman – Deputy Secretary of Veterans Affairs. Featured Speaker: Captain Joseph R. Buzzella, Jr. – Coast Guard Sector Commander Captain of the Port of San Diego. Sponsored by the Miramar National Cemetery Support Foundation, the service will be conducted in the cemetery's Memorial Circle at the eastern end of the Avenue of Flags.
Sunday May 27 – Monday May 28, 2018: The USS Midway Museum is the heart and soul of Memorial Day celebration in San Diego. The lineup of activities range from a Wreath Memorial ceremony, benefit concert, family activities, blood drive, interactive exhibits and more. Each element of Midway's Legacy Week commemoration is designed to honor and remember our heroes and celebrate our military heritage. Events also offer the community an affordable and inspiring way to kick off summer in San Diego on one of the most iconic museums in the world.
Monday May 28: The Fort Rosecrans Memorial Day celebration is one of San Diego's largest and most celebrated memorials dedicated to our fighting men and women. On this day we honor all of our fallen soldiers and remember them for their ultimate sacrifice to our country.
Monday May 28: Mt. Soledad's Memorial Day Ceremony. This Memorial Day, the Mt. Soledad National Veterans Memorial commemoration ceremony will include a special plaque presentation honoring Ulysses S. Grant, American Civil War General and 18th President of the United States serving from 1869 to 1877.
For more information on each of these and other Memorial Day weekend events, visit The San Diego Tourism Authority website at https://www.sandiego.org/campaigns/spring-break/memorial-day.aspx