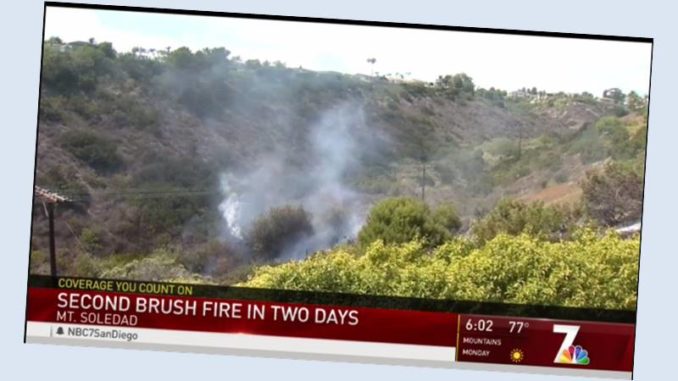 A brush fire started burning in a canyon near Mount Soledad Saturday afternoon [July 21] in the 5500 block of Caminito Genio, San Diego Fire-Rescue confirmed. Federal, Miramar and Coronado fire departments are assisting, and three helicopters are making drops. The fire burned roughly one acre, San Diego Fire-Rescue said. This is the second brush fire in this canyon in as many days.
For the complete video report from NBC7SanDiego, visit https://www.nbcsandiego.com/news/local/Small-Brush-Fire-Sparks-in-Mount-Soledad-2-Days-in-a-Row–488809061.html
---
San Diego Fire-Rescue Department: Defensible Spaces Works to Protect Homes
We need your help! Since we are entering the hot Summer months when fire danger can be high, let's work together to prevent fires and other hazardous conditions.
Living in the Wildland Urban Interface and the Ember Zone: A home within one mile of a natural area is in the Ember Zone. Wind-driven embers can attack your home. You and your home must be prepared well before a fire occurs. Ember fires can destroy homes or neighborhoods far from the actual flame front of the wildland fire.
Defensible Space Works: If you live next to a naturally vegetated area, often called the Wildland Urban Interface, provide firefighters with 100 feet of defensible space to protect your home. The buffer zone you create by removing weeds, brush and thinning vegetation helps keep the fire away from your home and reduces the risk from flying embers.
Zone One typically extends 35 feet from your home.
Trim tree canopies regularly to remove dead wood and keep branches a minimum of 10 feet from structures, chimney outlets and other trees.
Remove leaf litter (dry leaves/pine needles) from yard, roof and rain gutters.
Relocate woodpiles and other combustible materials into Zone Two.
Remove combustible material and vegetation from around and under decks.
Remove or prune vegetation near windows.
Zone Two typically extends 35 to 100 feet from your home.
Minimize the chance of fire jumping from plant to plant by removing dead material and removing or thinning vegetation seasonally. The minimum spacing between vegetation is three times the dimension of the plant.
There should be no permanent irrigation in Zone Two.
Cut or mow annual grass down to a maximum height of 2 inches.
Trim tree canopies regularly to keep branches a minimum of 10 feet from other trees.
Retain a tree canopy coverage of 50%.
For more information, visit the Fire-Rescue Department's home page at https://www.sandiego.gov/fire
For related posts, visit https://www.universitycitynews.org/category/sdfd/