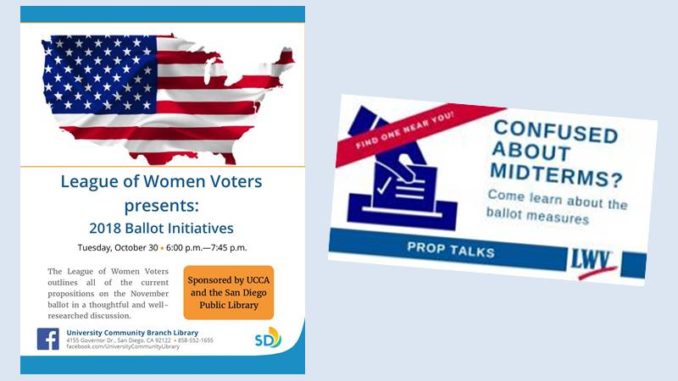 UPDATE: The League of Women Voters has voter information in its newsletters; refer to the September newsletter for proposition information. Posted at https://my.lwv.org/california/san-diego/voter-newsletter
A copy of the League of Women Voters presentation on the California state and local propositions for the November 6 elections is available at https://www.universitycitynews.org/wp-content/uploads/2018/11/LWVSD-2018-Nov-CA-Pros-Cons-v2.pdf
---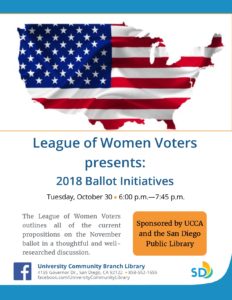 Did you know there are 11 state propositions and many more city and county initiatives on the November 6 ballot? The League of Women Voters San Diego (LWVSD) members have researched all the propositions, their goals, and who has funded each and will share what they have learned in a non-partisan education presentation addressing the initiatives on the ballot for the November 6 general election.
University Community Branch Library
4155 Governor Drive
Tuesday, October 30
6 to 7:45 PM
Bring your sample ballot or paper to take notes. Learn more about each proposition to enable you to make an informed choice about your vote. Invite a friend and/or neighbor as this session is open to the public. Refreshments will be served.
---
Recommendations from League of Women Voters San Diego: The League only takes positions on the few propositions that their members have studied extensively and have a consensus position. To review LWV recommendations on November ballot measures, visit https://my.lwv.org/california/article/our-voting-recommendations-november-ballot-measures
Summary of the November ballot measures: see also the September LWV Voter Newsletter at https://my.lwv.org/california/san-diego/voter-newsletter
Measures and candidates appearing on ballots in San Diego County:go to votersedge.org, choose the "look up ballots by county" option, and scroll down the menu to San Diego. To study only what's on your own ballot, enter your home address.
San Diego County voter information at https://www.sdvote.com/
For related posts from UCCA, visit https://www.universitycitynews.org/category/district-3/