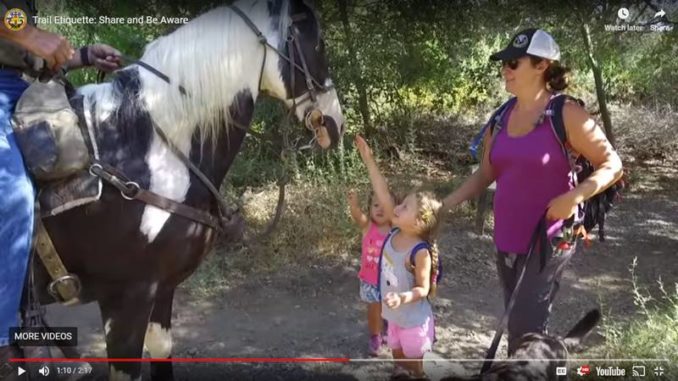 Multi-use trails can be a challenge at times when you combine horses, bikers, joggers and walkers – not to mention the width or the slope of the trails. From the County of San Diego Communications Office, Park Ranger Michelle Levesque helps guide you through possible scenarios and the proper etiquette to safely navigate the trails. View the YouTube video below or visit
https://youtu.be/S7omK4mB1KU
On January 12, 2005, the San Diego County Board of Supervisors unanimously approved the adoption of the County Trails Program and the Community Trails Master Plan.

The County Trails Program guides development of a system of interconnected regional and community trails and pathways. These trails and pathways are intended to address an established need for public recreation and transportation, but will also provide health and quality of life benefits associated with hiking, mountain biking, and horseback riding throughout the County's biologically diverse environments.
The County Trails Program involves both trail development and trail management on public, semi-public, and private lands. The Community Trails Master Plan is the implementing document for the trails program and contains local trails and plans for pathways that have been approved and adopted by the community. For more information about County trails and parks, visit : http://www.sdparks.org/content/sdparks/en/buttons/TrailsButton.html
For related posts, visit https://www.universitycitynews.org/category/parks-recreation-dept/