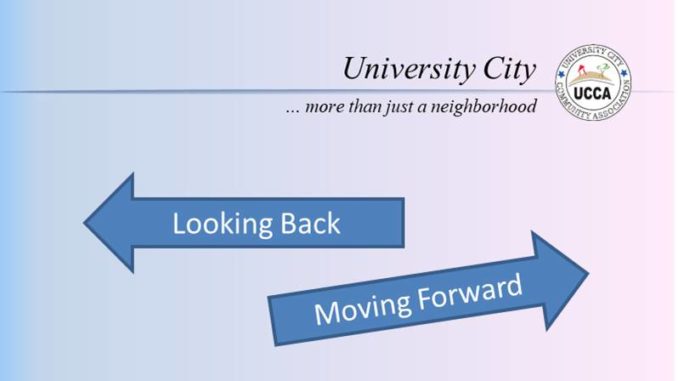 Do you remember when the Regents Road 'West End Project' construction got underway? How about the two parking lot incidents that changed the patio space forever at UC MarketPlace? The proposed sale of City surplus property? Air Force One at MCAS Miramar? The first of many improvements at Marcy Park? The National School Walkout? The City's approval of the Pure Water pipelines route on Genesee? The Library on Governor celebrating 45 years serving the community? All that in just the first four months. Today, UCCA takes a look back at some of the notable events and news stories affecting the University City community in 2018. And what's in store for 2019? UCCA and University City are moving forward into the new year with great anticipation. We got this. From the desk of Diane Ahern, UCCA's publicity chair
University City saw many changes and challenges in 2018 and University City Community Association played a vital role in keeping our community informed through its newsletters, websites, and monthly meetings. Take a few minutes to review a month-by-month list of some of the top stories affecting University City. Thanks to all the community volunteers who contributed. As you can read, your UCCA Board and our UCCA members are working together to live up to our motto, "University City, more than just a neighborhood". From the desk of UCCA"s President Barry Bernstein

January 2018:

Regents Road 'West End Project' began construction of nine new homes on Regents Road just south of Our Mother of Confidence Church.
As one of its first news items of the year, UCCA's website University City News highlighted free January programming for adults, teens and children at the University Community Libraries.
University Community Planning Group (UCPG) hosted its first meeting of the year where City discusses potential sale of surplus canyon property at Gullstrand and Robbins adjacent / south of University Gardens Park. The City eventually removed the property from the potential sales list.
University City Community Association (UCCA) hosted its first monthly community meeting at the Library on Governor; information items included potential sale of surplus canyon property as discussed at UCPG, removal of recycle bins at Standley/Swanson, Pure Water pressurized sewer line on Genesee, Regents Road Bridge lawsuit, Mid-Coast Trolley construction, Police and Fire department updates, and legislative reports.
City sought resident input on new proposed Master Plan for Utilities (overhead wires) Undergrounding.
Union Tribune reported that the Marines reprimand two pilots for 'flight mistakes' when departing MCAS Miramar airport.
UCCA received a grant from County Board of Supervisors for street banner and beautification projects. The first of two awarded to UCCA in 2018.
Councilperson Barbara Bry hosted her first State of the District Address at University City High School attended by hundreds of District 1 residents.
February 2018:
UCCA's volunteer newsletter committee and UCCA produced the first of 10 monthly newsletters in February. The front page story featured comments and suggestions from UCCA members.
University City Community Foundation (UCCF) announced improvements at Marcy Park including additional trees, a new bench and water fountain. An update to the playground area is expected soon.
UCPG discussed UCPG candidate statements, UCSD construction projects, Pure Water pipeline (planned for Genesee Ave), Marcy Park, Costa Verde Center, and potential sale of City owned parcels at Governor and Gullstrand and in north University City.
UCCA held its meeting on Valentines Day and discussed first responder, legislative and community leaders' updates. The Pledge of Allegiance was lead by Kiefer Black and Family as part of a Boy Scout Merit Badge project. During open forum, UCCA heard from U.C. High Music Department Sights and Sounds, UCPG representative Andy Wiese on proposed property surplus sale behind McElroy Field at Governor and Gullstrand, and information regarding the Pure Water sewer line update.
UCCA installed new Spring Poppies banners on Governor Drive, Genesee Avenue and Regents Road; funded in large part by a grant received from the County Board of Supervisors.
Union Tribune reported that a judge rejected the lawsuit attempting to revive the Regents Road Bridge project, paving the way for a Community Plan Update.
UC MarketPlace announced safety upgrades to the patio space at Starbucks and Primos after two parking lot incidents on separate days by different drivers. After structural repairs to the building, UC MarketPlace upgraded the patio area with permanent planters.
UCCA submitted a grant application to County Board of Supervisors to help fund a full color newsletter, podcasts and additional/replacement banners.
March 2018:

The University City newsletter cover story featured community volunteer Rudy Molina cleaning up weeds growing up on the median on Genesee south of Governor Drive and UCCA's donation to the Aquatics Sports department of University City High School.
The recycling bins were removed from the Swanson Pool parking lot after City and community input. The City declared that Swanson Pool was never an officially designated recycling drop off location. The designated drop off location for University City is at the Doyle Recreation Center parking lot.
The San Diego Union Tribune reported that the demise of Regents Road Bridge frees up $100M for other projects in University City.
UCPG held elections at its March meeting. Agenda items included the Pure Water EIR and Genesee Avenue pressurized sewer pipeline.
UCCA's monthly community meeting discussed proposed construction and revitalization plan for Regency Center's Costa Verde Center and the newly organized Town Council Coalition. UCCA was invited to join other community organizations already committed to the Coalition.
The People for a Clean UC group was forced to cancel its March monthly cleanup due to rain. They usually meet up on the 2nd Sunday of the month at 7:15 AM at Starbucks.
Air Force One, with President Trump aboard, stopped at MCAS Miramar, as the President toured the border wall area.
NBC7 reported on the National School Walkout at Standley Middle School.
CBS8 reported that a trailer full of camping gear was stolen from Boy Scout Troop 11.
Standley Park held its annual Spring Egg Hunt on Saturday, March 24.
MCAS Miramar breaks ground on joint strike fighter aircraft F-35 hanger construction.
April 2018:
University City's April newsletter cover story featured the City's proposed Pure Water pressurized sewer pipelines through University City as well as alternatives proposed by residents.
UCCA issued a call-to-action regarding the City's April 10 Public Hearing to hear the case for approving the City's Pure Water Project, asking residents to either attend the hearing and/or contact councilmembers. UCCA, UCPG, and UCCF have all voiced opposition, not to the project itself, but to the sewer pipe alignment through University City along Genesee Ave/Town Center Drive.
City Council, at the April 10 Public Hearing, voted unanimously to approve the Pure Water project including the route through Clairemont and University City.
Councilmember Barbara Bry issued a statement via Twitter regarding Pure Water vote: Thanks to those who testified on the Pure Water item. I heard you loud and clear and I included several amendments in response to the community concerns. My team and I will continue to work closely with the community to ensure that your concerns are addressed in a timely manner.
UC MarketPlace celebrated grand re-opening of patio space after safety measures were completed.
10 News reported on local University City and Clairemont leaders speaking out about the Pure Water pipelines route.
The April UCCA community meeting featured an open forum to discuss community concerns, a presentation by the La Jolla Town Council president on Short Term Vacation Rentals (STVR), and the Pure Water pipeline City Council vote.
University City Community Foundation (UCCF) established Go-Fund-Me fundraiser to support potential Toilet-to-Tap (Pure Water) lawsuit to fight pipeline route.
University Community Library on Governor Drive celebrated 45 years serving library patrons and the community.
UCCA sponsored a Pure Water Sewer Pipeline Rally and Information event at Standley Park.
May 2018:

University City's May newsletter cover story featured information about a potential lawsuit to oppose Pure Water pipeline route through University City.
UCCA and residents from Citizens Advocating Safe Aviation (CASA) met with Congressman Scott Peters and Col. Jason Woodworth, MCAS Miramar, to continue the efforts to establish a dialogue to discuss varying safety of flight issues.
Councilmember Barbara Bry hosted a public budget forum in University City.
UCPG planning group elected a new chairperson; May agenda items included a presentation and Q&A session by Colonel Jason Woodworth, commanding officer, MCAS Miramar; SANDAG / Mid-Coast Trolley construction and an action item on a request from Javier's Restaurant for a Conditional Use Permit for Tequila to take away.
UCCA expanded its monthly meeting to include a ½ hour of community networking opportunity beginning at 5:30 PM, before the regularly scheduled 6 PM meeting. During the May community meeting, residents discussed Short Term Vacation Rentals, the Coalition of Town Councils, a potential Pure Water lawsuit, and changes at University Square (home of Vons on Governor).
As of May 19, San Diego 619 and 858 area codes required 1 + area code for all calls.
UCCF/ImproveUC announced that the University City Community Foundation (UCCF) filed a lawsuit in regards the Pure Water pressurized sewer pipeline alignment.
UCCA supported voter registration efforts to increase registration before June primary.
Standley Park Recreation Council announced its schedule for 2018 Summer Concerts.
June 2018:

University City's June newsletter featured Summer Events including 4th of July UC Celebration, Summer Concerts, Volunteer Appreciation Day, Banana Split Ice Cream Social and National Night Out.
Coldwell Banker hosted its annual Community Garage Sale.
The Pure Water Working Group was established and sought University City input.
UCCA established an online Pure Water resource list for Clairemont and University City residents.
June meetings of both UCPG and UCCA featured information about the new Trees 1000 Foundation which seeks to plant 1000 trees on private property in University City to replace the almost 1000 trees lost to construction in recent years.
Local schools host graduation and promotion events.
Standley Recreation Center hosted Parks Master Plan workshop.
Mayor Faulconer issued summary of his plan on Short Term Vacation Rentals.
County Board of Supervisors awards UCCA grant to fund full color newsletter, podcasts, and additional banners.
July 2018:

The July/August University City newsletter highlighted all the events taking place at the UC Celebration as well as the Summer Concerts schedule.
City Parks and Recreation began formal separation from Recreation Councils; created Recreation Advisory Groups.
UCCA established an online Short Term Vacation Rental resource for area residents.
UC Celebration on July 4 at Standley Park included something for everyone. New this year was a snow play area and pony rides for kids.
Standley Park Recreation Council sponsored four Summer Concerts at Standley Park.
City Council scheduled a July 16 hearing and vote on the Short Term Vacation Rentals ordinance.
UCCA partnered with Friends of Rose Canyon to design new banners featuring a canyon view; banners were funded through a generous grant by the County Board of Supervisors.
The July UCPG meeting featured State Senator Toni Atkins, Curie Elementary Joint Use Park, and updates on SANDAG / Mid-Coast Trolley construction.
The July UCCA meeting featured a presentation in favor of the proposed Curie Elementary Joint Use Park Space as well as Pure Water and legislative leader updates.
Union Tribune reported that City Council voted to limit short term vacation rentals STVR to primary residences only.
SANDAG announced Genesee Avenue trolley construction column work ends and viaduct girder installation and intersection closures begin.
August 2018:

Standley Park Recreation Council sponsored four Summer Concerts at Standley Park.
City announced last chance to comment before the Short Term Vacation Rental (STVR) August 1 second reading and final vote.
Union Tribune reported City Council upheld earlier decision on tough Airbnb regulations despite threat of legal action.
The Tot Lot playground at University Village Park celebrated its first birthday with cookies, a bounce house, obstacle course and Movie in the Park.
Standley Recreation Center hosted its 37th annual Banana Split Ice Cream Social.
UCCA hosted its annual Volunteer Recognition Day at Standley Park during one of the Summer Concerts. Ruth DeSantis, Don Hotz, and Barbara Gellman received recognition for their volunteer efforts from Assemblymember Todd Gloria's office.
UCCA's Neighborhood Watch hosted National Night Out events throughout University City.
Doyle Park playground reopened after renovations and upgrades; hosts ribbon cutting ceremony.
Assemblymember Todd Gloria hosted a Community Coffee at University Community Library.
San Diego Community Working Group on Short-Term Vacation Rentals released a warning information about paid petition signature gatherers working to overthrow new City ordinance.
NBC7 reported Trader Joe's Files Lawsuit to Prevent Signature Gatherers from Soliciting at Stores.
SDUSD welcomed students to new school year.
September 2018:
UCCA released its first full color newsletter, funded in part by a grant from the County Board of Supervisors. The newsletter featured a full-color wrap-up of Summer events and a look ahead to the Fall season.
UCPG meeting included discussion of the Pure Water Project Working Group Meetings, SANDAG Mid-Coast Trolley construction and information about the UC Community Plan Update process.
UCCA meeting again invited neighbors to network beforehand beginning at 5:30. Meeting special guests included Police Captain Scott Wahl, county supervisor Kristin Gaspar, and city planner Dan Monroe. Discussion included crime and safety, the community plan update, and safety of flight concerns raised by Citizens Advocating Safe Aviation (CASA).
MCAS Miramar Air Show 2018 featured 100 Years of Women in the Marine Corps.
The 34th Annual Coastal Cleanup Day included a cleanup at Nobel Park in University City.
Community Library hosted a Register to Vote event.
Nobel Recreation Center hosted Community Plan Update Open House.
The League of Women Voters hosted the first of three What's on the Ballot? events in University City.
October 2018:

The October newsletter featured information about the University Community Plan Update. The University Community Plan Update Subcommittee issued application for members to serve on committee.
Oktoberfest returned to Standley Park Saturday, October 13, despite a threat of rain.
SANDAG announced Genesee Avenue intersection closures (eastbound and westbound) due to Mid-Coast Trolley construction.
UCPG meeting in October included discussion of a Marijuana Processing Facility, Cell Phone Towers, and the Community Plan Update.
UCCA meeting in October included discussion of crime and safety updates from police and fire representatives, legislative reviews, University Community Plan updates, an open forum to discuss community concerns, and information about a planned memorial and tree dedication to honor the four neighbors who lost their lives in the F-18 military plan crash 10 years ago.
UCCA appointed Katie Rodolico as UCCA's representative to the University Community Plan Update Committee and Deanna Ratnikova as alternate.
People for a Clean UC conducted a monthly neighborhood Clean Up on October 14.
Citizens Advocating Safe Aviation (CASA), a watch dog group first established shortly after the 2008 fatal F-18 crash in University City, provided a historical perspective in the October newsletter; representatives were invited to present at the November UCCA meeting.
The San Diego Coalition of Town Councils announced it was now 10 members strong including (founding group) Clairemont Town Council, La Jolla Town Council and University City Community Association.
UCCA urged voter registration in preparation for the November 6 gubernatorial election.
Union Tribune reported City Council voted to rescind the Short Term Vacation Rental (STVR) ordinance.
Standley Recreation Center hosted its annual Halloween Carnival and Costume Contest.
UCCA sponsored a What's on the Ballot? League of Women Voters Review the 2018 Ballot Propositions at the Community Library on Governor.
November 2018:
The November University City newsletter featured a thank you to University City as well as news and information about the neighbors and events which unite us all and make our University City a wonderful community in which to live and work. UCCA urged residents to join or renew their University City Community Association membership for 2019.
UCCA continued its efforts to get out the vote, reminding residents they had the option to vote early by mail or in person at the Registrar of Voters Office.
UCCA and Citizens Advocating Safe Aviation (CASA) met with Chairwoman Kristin Gaspar of the County Board of Supervisors to understand mutual concerns for aviation safety throughout San Diego County.
UCPG reviewed and discussed details plans for the new First Station 50 at their November meeting.
UCCA heard detailed plans of the 10th Anniversary of the F-18 military jet crash in 2008 in University City that destroyed two homes, damaged others, and killed four members of the same family. A Memorial and Tree Dedication is planned for December 8, 2018.
Curie Elementary School hosted its annual Craft Fair.
December 2018:

The December University City newsletter featured the annual Dinner with Santa, and Christmas Tree and Menorah Lighting Celebration and the retirement of long-time Recreation Center Director Carmen Espinoza, most recently of Nobel Recreation Center.
Community groups CASA, UCCF, UCCA and the City, under the leadership of CASA member Pia Sud, organized and sponsored a Memorial and Tree Dedication on Saturday, December 8, 2018, to honor those who lost their lives in the December 8, 2008, F-18 military aircraft crash.
Standley Park and the Recreation Council and UCCA once again partnered to sponsor the Dinner with Santa, and Christmas Tree and Menorah Lighting Celebration.
MTS sought input about potential bus routes to serve new Mid-Coast Trolley stations.
Both UC Little League and UC Del Sol fastpitch softball opened their Spring Ball registration.
Union Tribune reported City Council agrees to pay SDG&E $35 million to move their lines to make room for Pure Water pressurized sewer pipes.
Swanson Pool on Governor Drive in University City hosted Christmas Tree Recycling.
Despite UCCF lawsuit, the Pure Water project will proceed and construction will begin in 2019.
Yes, University City certainly saw many changes and challenges in 2018 and University City Community Association played a vital role in keeping our community informed through its newsletters, websites, and monthly meetings. Thanks to all the community volunteers who contributed. As you can read, your UCCA Board and our UCCA members are working together to live up to our motto, "University City, more than just a neighborhood". From the desk of UCCA"s President Barry Bernstein
For more University City News, visit https://www.universitycitynews.org/category/university-city-news-ucca/