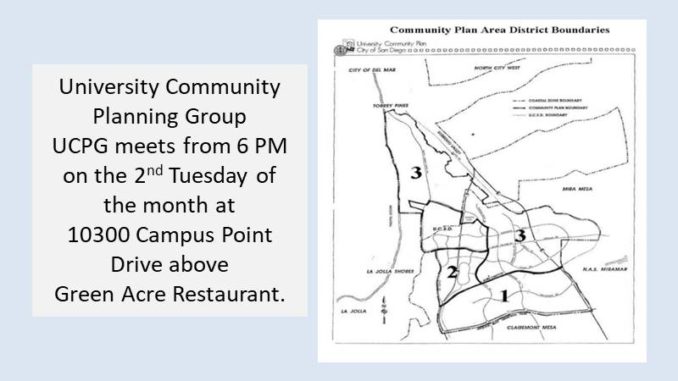 Both the Community Plan Update Subcommittee (CPUS) and the University Community Planning Group (UCPG) will meet on Tuesday, January 8, in the Green Acre Conference Room (2nd Floor, above the Green Acre Restaurant), at 10300 Campus Point Drive, San Diego, 92121. Please note that the Subcommittee meets at 6 PM and the UCPG Planning Group meets at 6:45.

Community Plan Update Subcommittee agenda items include election of a CPUS Chair; recording secretary and other organizational issues; establish CPUS future day and meeting time; potential topics for next 6 months and information to be considered.
UCPG agenda items include Public Comment on Non-Agenda Items (3 minute limit); Action Item on James Matthews, Bloom Energy, for Illumina, Project 623196, Neighborhood Development Permit, Process 2; Action Item on Kathryn Spenser, proposal for traffic calming methods at General Atomics Court and John Jay Hopkins Drive; and Action Item on Planning Group, formulation of a list of Capital Improvement Projects to submit to Councilmember Bry for the upcoming fiscal year.
The complete agenda, when available, will be posted on the City's website at https://www.sandiego.gov/planning/community/profiles/university/agendas
For related posts, visit https://www.universitycitynews.org/category/ucpg/