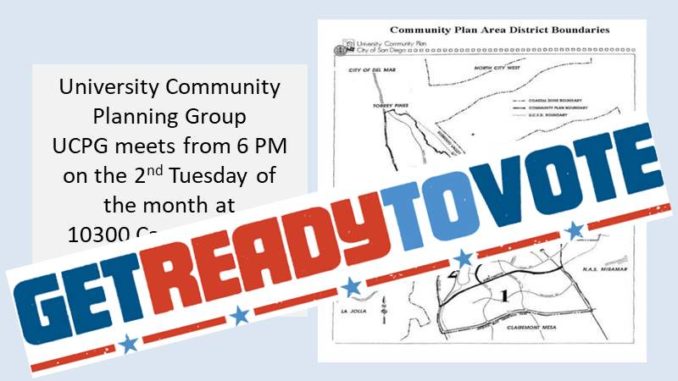 Don't delay; register today. In order to vote in the March 12, 2019, UCPG election, you must be registered as a general University Community Planning Group UCPG member before February 12, 2019. There is no cost to be a Planning Group member; membership does not expire; but members must have current address information on file with the Membership Secretary. Please note that the membership registration form must be returned to the Membership Secretary before the February 12, 2019**, UCPG meeting in order to vote in the March 12 election. Return information is on the form.
**February 2019 only! Community Plan Update Sub-committee meets at 5:30 PM; UCPG meets at 7 PM. February 2019 only!!
From UCPG Bylaws available at https://www.sandiego.gov/planning/community/profiles/university : Planning group members shall be elected by and from eligible members of the community. To be an eligible community member an individual must be at least 18 years of age, and shall be affiliated with the community as a:
(1) property owner, who is an individual identified as the sole or partial owner of record, or their designee, of a real property (either developed or undeveloped), within the community planning area, or
(2) resident, who is an individual whose primary address of residence is an address in the community planning area, or
(3) local business person*, who is a local business or not-for-profit owner, operator, or designee at a non-residential real property address in the community planning area; only one representative of a particular establishment may hold a seat on the community planning group at one time.
An individual may become an eligible member of the community by submitting an Eligible Member of the Community Application demonstrating qualifications to the planning group Membership Secretary prior to the close of the regularly noticed February UCPG meeting. Applications that are postmarked by the deadline date will also be accepted. Normally, the annual election occurs at the next regularly noticed meeting in March. Business members must submit a copy of a current City Business Tax or County Property Tax Certificate along with the Application. Any submitted Application is subject to review and approval by the Membership Secretary.
*A business or non-profit organization may not designate nor be represented by more than one elected member regardless of being located in more than one district. The intent shall be only one vote for each business in its own right or as a designee, but not both.


See also the University Community Planning Group page on the City's website at https://www.sandiego.gov/planning/community/profiles/university
For related posts from University City News, visit https://www.universitycitynews.org/category/ucpg/