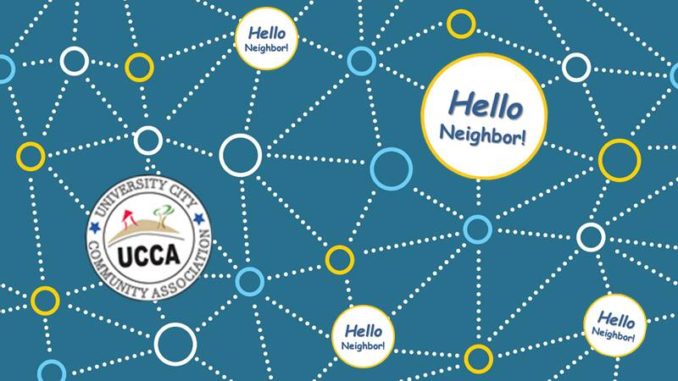 On Wednesday, April 10, UCCA hosts Neighbor Networking at 5:30, community meeting at 6 PM. All are welcome. Please join us. Ongoing agenda items include updates from community and legislative representatives such as the Police and Fire departments and local elected and legislative leaders. Each meeting includes an Open Forum during which interests and concerns of community members may be expressed. If you have an agenda item to suggest or would like to speak during open forum, please use the Contact Us link at https://www.universitycitynews.org/contact-us-or-volunteer-in-uc/or email us at universitycitynews@gmail.com.
UNIVERSITY CITY COMMUNITY ASSOCIATION (UCCA), Wednesday, April 10, 2019, GENERAL MEETING, at the University Community Library, 4155 Governor Drive, 92122.
6:00- Welcome, Pledge of Allegiance
6:05- Approval of March minutes, (vote)
Approval of meeting agenda (vote)
6:10- San Diego Police Report-Brandon Broaddus
SD Fire/Rescue-New station #50 groundbreaking
6:15- Legislative representatives:
*new rep.for Todd Gloria-Mathew Gordon
6:20- Introduction of guests: (2-3 minutes speaking time)
Tatiana Najai-Girl Scout
Jacob Chaparro-resident
Cantor Sheila Weiss-Synagogue Outreach
Raejean Fellows- Pres. Electric Auto Assoc.
Will Moore-City Council, District 1 Candidate
Other…..
6:30- 6:45  University City Traffic-Governor Drive Discussion
led by Mark Salata, (followed by a brief Q & A)
6:45- President's Remarks….June 20 Community Clean-up, "Atlas", Standley Park Rec Council, Saturday's Spring Egg Hunt, "Sights/Sounds"-4/19 at UCHS, "Taste of the Triangle" Other items……
6:50- Treasurer's Report- Don (approval vote required)
Membership Report-Hallie
7:00- OLD/NEW BUSINESS:
"TASTE OF THE TRIANGLE"  *VOTE on funding amount
BEAUTIFICATION-    Merle-estimates/plans for medians
7:10-  COMMITTEE REPORTS:
CPUS- Katie and Deanna
C.A.S.A.   Member in attendance/and or Barry
County Grant- Community Enhancement Grant -update Barry
Neighborhood Watch- Barbara G.
Town Council Coalition -Mack
Other…
7:30- Adjournment
*Next meeting Wednesday, May 8, 6:00 p.m.
HAPPY EASTER AND A JOYOUS PASSOVER