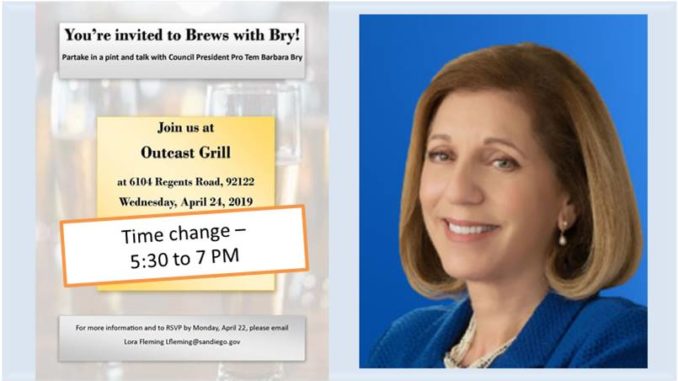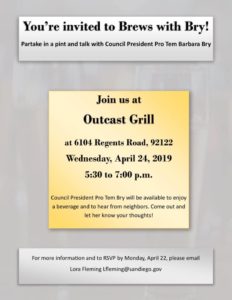 Traffic congestion? Homelessness? Crime? Community plan update? Fire Station 50? Short term vacation rentals? Pure Water pipeline route? Scooters and 'micromobility' solutions? Climate change? Safe aviation? Overhead power lines? Aircraft noise monitors? Miramar overflights?
No matter your concern or interest, this is your chance to chat with Council President Pro Tem Barbara Bry. All are invited to Brews with Bry at Outcast Grill, 6104 Regents Road, Wednesday, April 24, 2019, from [time change] 5:30 to 7 PM. Councilmember Bry wants to hear from neighbors; come out to Outcast Grill and let her know your thoughts. For more information and to RSVP, please email Lora Fleming Lfleming@sandiego.gov.
If you are unable to attend, please email your thoughts to Lora Fleming and/or with University City representative Bridger Langfur at blangfur@sandiego.gov.
For related posts, visit https://www.universitycitynews.org/category/district-1/