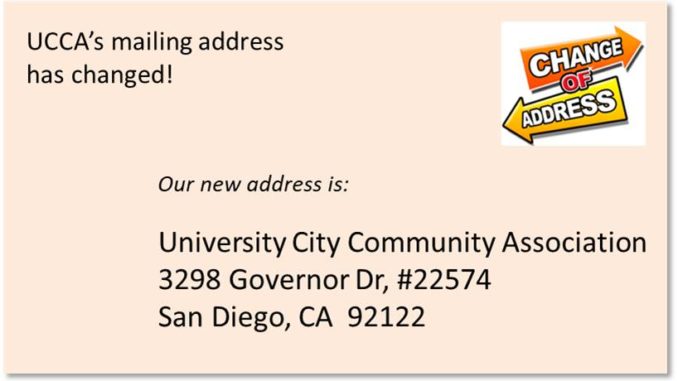 UCCA has a new Post Office Box and therefore a new mailing address. To minimize inconvenience to our members and community partners, we have requested mail forwarding services for the next six months. Thank you for your patience as we make this transition. Please use our new mailing address as of June 1, 2019.
New Mailing Address:
University City Community Association (UCCA)
3298 Governor Dr, #22574
San Diego, CA  92122
Let's stay in touch; there are many ways to Contact Us, including:
Voice Mail: 858-412-0786
Email: UniversityCityNews@gmail.com
Website: www.UniversityCityNews.org
Contact Us form: https://www.universitycitynews.org/contact-us-or-volunteer-in-uc/
Monthly Meetings: UCCA meets on the second Wednesday, at the University Community Library, 4155 Governor Drive, except in August and December. Neighbors who wish to network are urged to join us at 5:30 PM as we begin our setup; meeting is called to order at 6 PM; all are welcome.