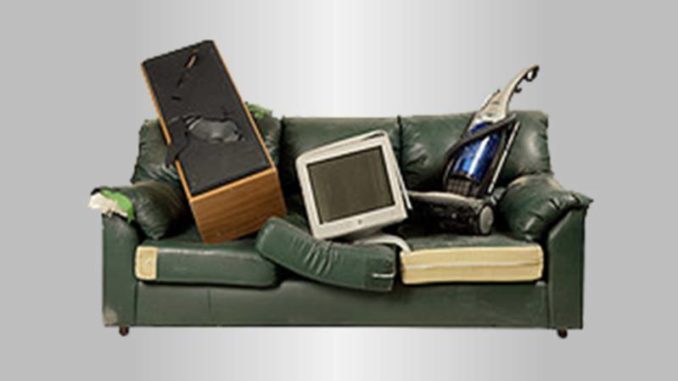 ! CANCELLED !  6/10/2019: UCCA has been informed by the environmental services department that the "Community Cleanup" scheduled for the 92122 zip code for June 20 has been canceled.  We regret any inconvenience. If you have any questions, please contact the Environmental Services Department, Customer Service Contact Center, at (858) 694-7000 or TRASH@sandiego.gov.
---
Some areas of University City 92122 zip code (not all areas) are scheduled for a bulky item pickup "Community Cleanup" on Thursday, June 20. This service is limited to those who currently receive curbside collection of trash, yard waste, and recyclables through the San Diego Environmental Services Department. Residents living on streets scheduled for this service will receive a notice at their door approximately two weeks before.
The City of San Diego Environmental Services Department will not pick up everything (they exclude hazardous materials, for example). Please check the following list for details:
Recyclables: Items accepted include recyclables like appliances, electronics (such as TVs, computer monitors, VCRs, CPUs), lawn mowers (free of oil and gas), metals, and wood and yard trimmings (bundled and tied, not to exceed 50 pounds, under 6 feet long).
Non-Recyclables: Also picking up non-recyclables including carpeting, junk furniture, mattresses, and palm fronds (bundled and tied, not to exceed 50 pounds, under 6 feet long).
Not accepted: Items which will not be accepted or picked up include lightbulbs, dirt, construction, or demolition rubble, hazardous waste (paint, motor oil, and batteries), propane tanks, gas cylinders or tires.
Please keep in mind that if your street is part of the community cleanup bulky item pick up, you will receive a notice at your door approximately two weeks before the pick up. If you don't receive a notice, do not place your bulky items at the curb. For more information, visit the Environmental Services webpage on the City's website at https://www.sandiego.gov/environmental-services/geninfo/events/cleanup/cleanschedule
Note: If you live in an area with a home owners association (HOA) and/or a property manager and take out garbage and/or recyclables to a community dumpster for disposal, please contact your HOA or property manager for your site-specific plan.