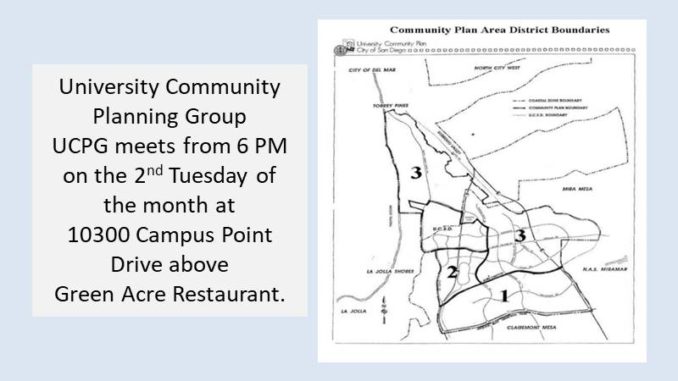 University Community Planning Group (UCPG) meets on Tuesday, June 11, 2019, at 6 PM at the Alexandria Building, 10300 Campus Point Drive, 2nd Floor Conference Room, San Diego, CA 92121. This month's meeting features a presentation by Marisa Mangen on the Mid Coast Trolley Mobility Hubs, and action items on the Capital Improvement Projects and Community Planners Committee request for a vote. The UCPG meeting is held in the same building as the Green Acre restaurant. The building has a large surface parking lot with no parking fee. Refreshments will be served. All are welcome to arrive early for networking.
UCPG meetings typically begin with announcements and legislative/community leader presentations. Agenda items include for June 11:
Public Comment: Non-Agenda Items (3 minute limit).
Action Item: Approval and ranking of University City Capital Improvement Projects (CIP) for submission to the City.
Information Item: Mid Coast Trolley Mobility Hubs presentation by Marisa Mangen, SANDAG Associate Regional Planner. For more information about Mobility Hubs, visit https://www.sdforward.com/mobility-planning/mcmobilityhub
Action Item: The Community Planners Committee (CPC) has requested a vote to oppose SB50/SB330 and to recommend that the City Council oppose SB50/SB330.
The complete agenda for the June 11, 6 PM, University Community Planning Group (UCPG) meeting is available for download at  https://www.sandiego.gov/planning/community/profiles/university/agendas
For related posts from UCCA, visit https://www.universitycitynews.org/category/ucpg/