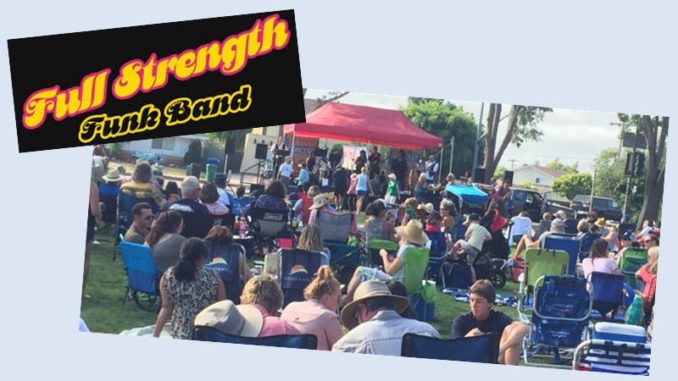 Back by popular demand, Full Strength Funk Band returns to University City's Summer Concerts at Standley Park on Sunday, August 11; sound check and warm up begin at 4:30; show time from 5 to 7 PM. From classic funk to today's dance hits, Full Strength Funk Band is an 11 piece funk band featuring a full horn section, sweet harmonies and Latin percussion. Their music is upbeat, positive, singable, and danceable. They lay down the groove that'll make you move!
Their song list includes hits made famous by artists like Earth, Wind & Fire, Aretha Franklin, James Brown, Marvin Gaye, Stevie Wonder, The Commodores, The Meters, Parliament, The Isley Brothers, War, Sly & The Family Stone and many more.  They also play newer tunes from current artists like Cupid, Daft Punk and Pharrell Williams, ensuring that everyone is dancing and singing to the music they love.
It may be hard to believe, but the Summer Concert season at Standley Park has only three concert dates remaining. Don't miss out!
8/11 – Full Strength Funk Band – Funk, R&B, Soul w/UC resident Pamela Gallo
8/18 – Y3K – Modern Variety Rock Band
8/25 – Forecast – A wide variety of Jazz Styles from Funk to Swing to Bossa w/UC resident Greg Pardue. This is also Volunteer Recognition Night.
All concerts are at Standley Park, 3585 Governor Drive. All concerts are scheduled for Sunday evenings. Sound check and warm up begins at 4:30; concert from 5 to 7 PM. Standley Park is a fun and family friendly venue with playground and large grassy area. Bring a lawn chair or blanket, snacks and drinks, and enjoy a lovely evening with friends and neighbors in University City. Arrive early to pick out a favorite spot in the shade. Don't forget your dancing shoes! Please note that concerts are subject to cancellation due to inclement weather.
For more information about the Summer Concerts, visit https://www.universitycitynews.org/summer-concerts-in-standley-park/