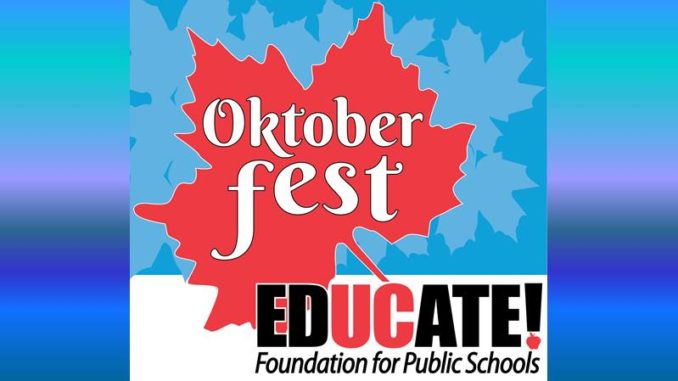 This is such a good cause and such a wonderful community event. Let's get out and meet friends and neighbors. There's something for everyone at Oktoberfest at Standley Park on Saturday. 
• Kids Zone Games • More games and kids activities than ever plus the ever popular rock climbing wall! 
• Beer & Wine Garden • Featuring a variety of San Diego brews and wines. The beer and wine are donated, so all proceeds from the beer garden go straight to our schools.
• Dollar A Day VIP • Donate $180 to EdUCate!'s Dollar-A-Day campaign ($1 per school day) and receive unlimited beer, wine and soda pours for two people.
• Principal's Challenge • The principals from our 5 U.C. public schools compete for the honor of their school.  Who will win the crown this year?
• Community Booths • Organizations such as UCCA, FORC, and UCPG will be on hand to share their support. 
• Food • Visit the Food Vendors – A portion of the proceeds go to EdUCate!  There will be hot dogs, brats, gourmet nachos, kettle corn, shaved ice and pretzels.
• Strudel • Back by popular demand … delicious strudel from the French Gourmet!
• Old Town Trolley Rides • The trolley, sponsored by Coldwell Banker UC Agents, runs the length of Governor Drive from 1 pm to 6 pm.
And much more!! Details at https://www.uc-educate.org/events/oktoberfest/
---
Mark your calendars now for the 11th Annual EdUCate! Oktoberfest on October 12, 1 to 6 PM at Standley Park, 3585 Governor Drive. Plan for the famous beer and wine garden, a variety of food offerings, music, booths, loads of games for the kids and more. The University City event has become an international-German festival along with lots of fun raising money for the five UC public schools.
When you donate to the Dollar-a-Day ($180) program, or more, you will receive unlimited pours for two in the Oktoberfest beer garden. The EdUCate! Foundation is a non-profit organization dedicated to supporting the five University City public schools, University City High, Standley Middle, and Curie, Doyle and Spreckels Elementary schools. Since 1993, EdUCate! has funded over $1,900,000 in teacher classroom grants, principal school-wide grants, multi-school programs like the EdUCate! Math Academy and Jr Achievement BizTown, technology improvements and scholarships.
Thanks goes out to the current 2019 Major Sponsors: Nancy Beck, Century 21 Award; Valerie Upham Realtor, Compass; Steve & Terri Gray- grayloanteam.com; Coldwell Banker UC; Katie Dunahoo, Coldwell Banker; Regency Centers-Costa Verde; Caryl Lees, Century 21 Award; and the University City Community Association.
For more information about how you can participate this year, go to https://www.uc-educate.org/events/oktoberfest/