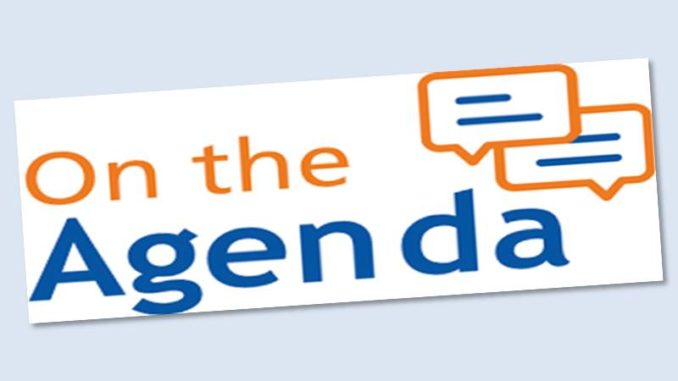 On Wednesday, October 16, 2019, UCCA hosts Neighbor Networking at 5:30, community meeting at 6 PM. All are welcome. Please join us. We meet at the Community Library at 4155 Governor Drive. Ongoing agenda items include updates from community and legislative representatives such as the Police and Fire departments and local elected and legislative leaders. Each meeting includes an Open Forum during which interests and concerns of community members may be expressed. The preliminary agenda for the October 16 meeting is below. If you have an agenda item to suggest or would like to speak during open forum, please use the Contact Us link at https://www.universitycitynews.org/contact-us-or-volunteer-in-uc/or email us at universitycitynews@gmail.com.
Please note that this month's featured speaker is Assemblymember Todd Gloria, a candidate for mayor of San Diego.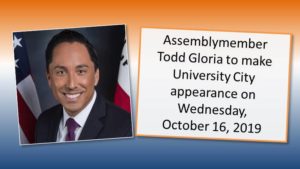 A G E N D A : Preliminary for October 16. 2019, University City Community Association, meeting at University Community Branch Library, 4155 Governor Drive, San Diego, CA 92122.
6:00- Welcome/Pledge of Allegiance/Announcements
6:05- Approval of Sept. minutes (vote)
Approval of meeting agenda (vote)
6:10-6:30 -Special guest, Asm. Todd Gloria,mayoral candidate
6:30- SDPD/SD FIRE RESCUE
6:35- City/County/State legislative liaisons
6:50- OPEN FORUM/REQUESTS FOR FUNDING
1. 1,000 TREES FOUNDATION-Janay Kruger
2. U.S. Census community rep. – Isabel Lemus
3. Community Fire Councils-Jemma Samala
4. CPUS report- Katie Rodolico
5. Other
_ _ _ _ _ _B R E A K __ _ _ _ _B R E A K _ _ __ _ _ _ _
7:10- Treasurer's report-Don Membership- Hallie
7:20- COMMITTEE REPORTS:
NEWSLETTER-DON
BANNERS/GRANTS-DIANE
UCPG- (NO MEETING IN OCTOBER)
BEAUTIFICATION-MERLE
CHRISTMAS TREE/MENORAH LIGHTING-Barry
Other…..
7:45- adjournment
NEXT MEETING-November 13…UCCA Elections and Barbara Bry mayoral candidate,
Thank you Hallie and Barbara Henshaw for tonight's refreshments.