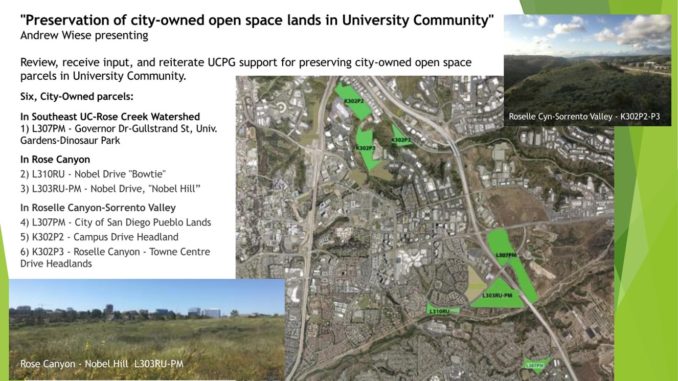 The University Community Planning Group (UCPG) took action at its July 14, 2020, meeting to reiterate its support for preserving open space parcels in the University City community. UCPG board member and Community Plan Update Subcommittee (CPUS) chair Andrew Wiese provided an overview of the six city-owned open spaces in the University community including spaces adjacent to Rose Canyon, University Gardens Park (commonly known as Dinosaur Park), and Roselle Canyon-Sorrento Valley.
Motion: The UCPG reiterates its support for the permanent preservation (through parkland dedication or other effective means) of the following City of San Diego-owned parcels in the University Community:
L307PM- Governor Drive-Gullstrand St, University Gardens-Dinosaur Park
L310RU – Nobel Drive "Bowtie"
L303RU-PM – Nobel Drive, "Nobel Hill"
L304MM- City of San Diego Pueblo Lands
K302P2 – Campus Point Drive Headland
K302P3 – Roselle Canyon – Towne Centre Drive Headlands
Preserving these parcels will be the subject of the next Community Plan Update Subcommittee (CPUS) meeting so reviewing Andy's presentation will be good preparation for the meeting.
---
Meeting materials:
Save the date:
---
Summary courtesy of UCCA's Diane Ahern; also contributing Planning Group chair Chris Nielsen.