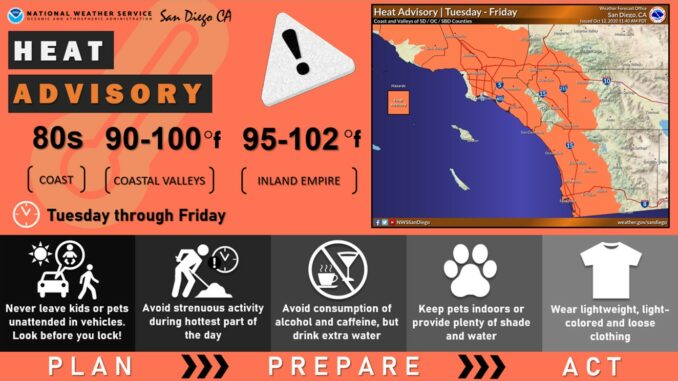 From the National Weather Service San Diego: Alright folks, you know the drill. Our weather is heating up again this week, especially from the coast into the western valleys. Spread the word and take it easy if you must venture outdoors. A heat advisory is in effect Tuesday through Friday for the coast and valleys of San Diego, Orange, Riverside and San Bernardino Counties. Highs will reach 100 in some of the hotter valleys. There might be some cooling over the weekend, but even then, it is likely to be gradual.
Keep yourself and your family safe during a Heat Advisory:
Never leave kids or pets unattended in vehicles. Look before you lock.
Avoid strenuous activity during the hottest part of the day.
Avoid consumption of alcohol and caffeine, but drink extra water.
Keeps pets indoors or provide plenty of shade and water.
Wear lightweight, light-colored and loose clothing.
And, just in case one is issued, here's how to keep yourself and your family safe during a Red Flag Warning:
Bring flammable objects indoors (furniture, door mats, trash cans, etc.)
Have emergency kit ready to go. Consider packing it into car.
Keep gas tank at least half full. Back your car into the driveway.
Avoid the use of equipment that may generate sparks.
Keep phone charged and stay up to date with official sources on social media.
For current information, visit National Weather Service San Diego at https://www.weather.gov/sgx/
---
For information about the Fire Safe Council, visit https://www.universitycitynews.org/category/sdfd/