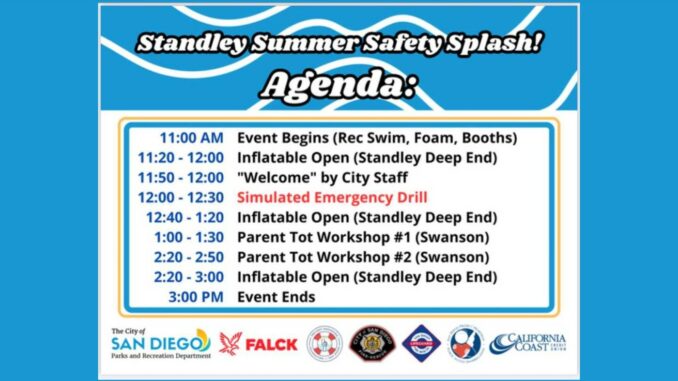 From Falck Mobile Health: Have fun and learn about water safety at the Standley Summer Safety Splash on Sunday July 23 from 11 a.m.-3 p.m. at the Standley Aquatic Center, 3605 Governor Drive, in University City. This free event will feature booths about CPR, life jackets, Parent & Tot Swim Safety Workshops, and have an inflatable obstacle course and foam machine.
"We are thrilled to host the Standley Summer Safety Splash to promote lifesaving water safety education while bringing the community together for a fun day at the pool," said Nicole McNeil, District Manager for San Diego's Parks & Rec department.
Teaching local families about water safety is also a mission close to heart for Kevin Makinson, Paramedic Field Supervisor for Falck, the city's 911 ambulance provider. He grew up in University City and enjoyed swimming at Standley.
"Growing up in UC, Standley Pool and Rec were the main hangout spots. I learned so much at both places I felt this was my way of paying it forward," said Makinson, who is helping plan the event. As part of the program, first responders will hold a full simulated emergency response to a drowning incident.
Drowning statistics are trending upward in the County. The Medical Examiner's office reported at 56% increase in drownings from 2020-2021, the last available years' data. Drowning also remains the leading cause of unintentional injury death for infants and toddlers 1-4 years old.
The Standley Summer Safety Splash is put on by the City of San Diego, Falck Mobile Health, the Prevent Drowning Foundation of San Diego, San Diego Project Heart Beat and California Coast Credit Union.
The Aquatic Center is located at 3605 Governor Drive. For any wishing to stay and make it an evening, the event will be closely followed by the Summer Concert Series at Standley Park with the Siers Brothers Band scheduled to perform.