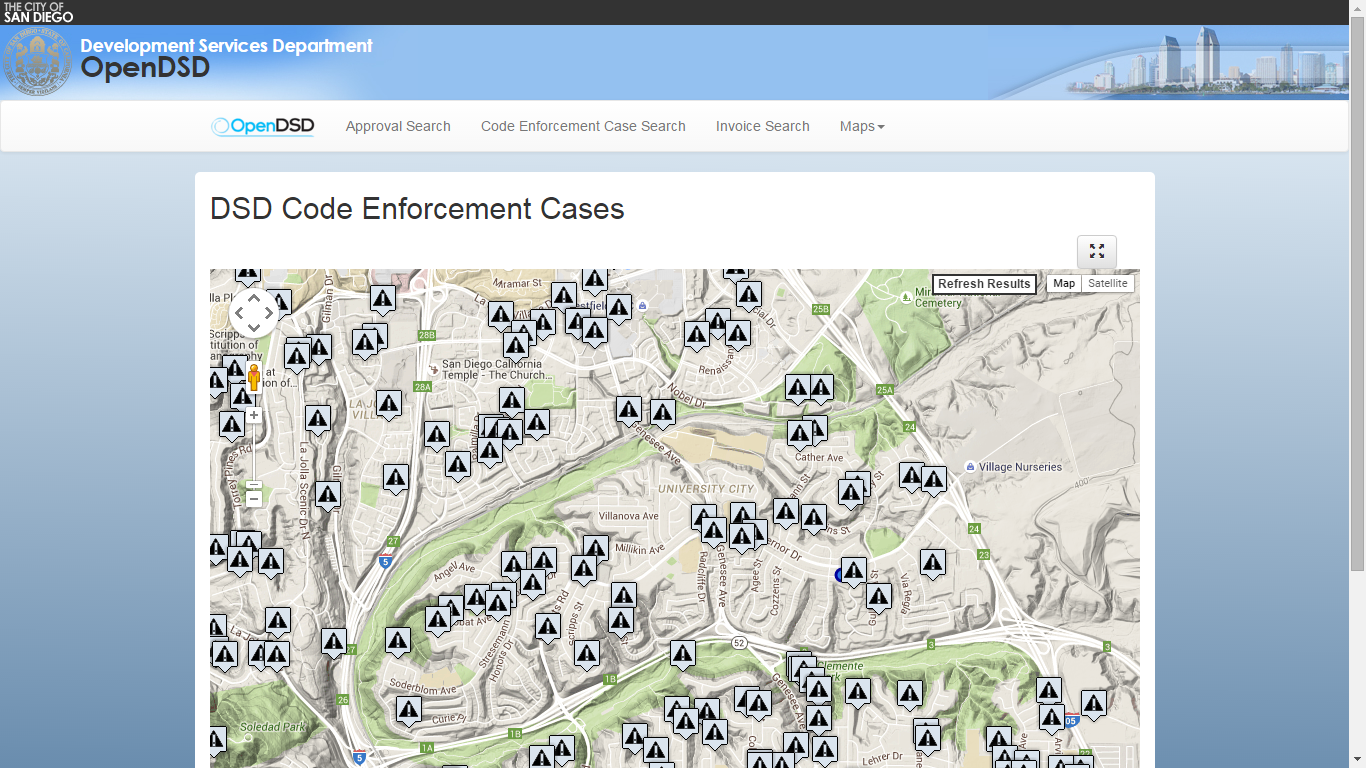 From the San Diego Development Services Department; to access OpenDSD, visit http://www.sandiego.gov/development-services/opendsd/ 
---
The City of San Diego is committed to serving the public and improving how information is provided to its citizens. For the first time, the City of San Diego's Development Services Department (DSD) is releasing to the public its Project Tracking System (PTS) in web-based format.

PTS is an in-house software system used to both manage and track the City's land development permit processing functions. OpenDSD will now provide online access to permit data through internet browsers as well as to those who wish to query the permit data with software.

[Information can be searched by data back to 2003; or by map for current or recent activity.]

The scope of the data published exceeds that of any other city. The breadth of the release is intended to cover land development permit application, issuance, inspection, and completion.

A variety of information including timelines, scope, decisions, and costs will all be provided online. In addition, Code Enforcement case activity is also provided. This data includes permit information dating back to 2003 as well as code enforcement cases since 2011. Personal identifying information such as phone numbers about individuals doing business with the City is not provided.

Benefits to Community and Neighbors

Can get an understanding of past, present and future development activity in the community.
Can choose to get involved earlier in the development process.
Can conduct research regarding neighborhood construction.
Can verify or get status on neighborhood code enforcement issues.

Benefits to Property/Project Owners/Design Professionals

Can cancel and schedule appointment for inspections online
Can pay PTS invoices online.
Can get up-to-the-moment status of events transpiring in their project.
Can monitor inspection activity.
Can confirm development process timelines.
Can research whether or not the design professional/contractor has pulled appropriate permits.
Can validate permits when selling property.
To access OpenDSD, visit http://www.sandiego.gov/development-services/opendsd/
---
Note: If you have a news item to share, please submit your story through UCCA's Contact Us link at https://www.universitycitynews.org/contact-us-or-volunteer-in-uc/.  
Review article guidelines at https://www.universitycitynews.org/ucca-newsletter-archives/
What do Facebook, Twitter, Nextdoor, ImproveUC and UCCA have in common? They are all ways neighbors can connect with neighbors and the University City community. Create a post, start a conversation, share the news, organize an event, keep in touch, take a look: