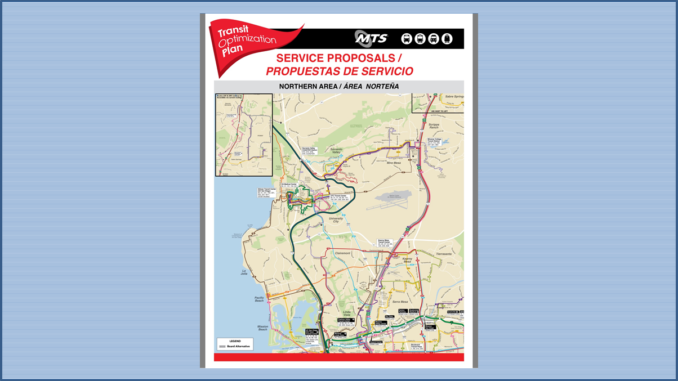 Courtesy of Diane Ahern:
Many of us in University City were hoping for bus service from Genesee to the 805 on Governor Drive but it looks like that's not going to happen.

Per the most recent Transit Optimization Plan proposed by MTS, local changes involve reducing or eliminating service or keeping it the same; I don't see any added service. For example, there is no proposal to add service on Governor Drive east of Genesee Avenue to the 805. 

Route 105 has been rerouted and will no longer travel through University City from Clairemont to the UTC Mall transit center.
Route 50 north and south from downtown San Diego through Clairemont to the UTC Mall transit center using Regents, Governor and Genesee will no longer have midday service. It will be rush hour only.
Route 41 north and south from the transit center at Fashion Valley to the transit center at UTC Mall using Genesee will have no changes.

A recent summary of changes to local routes appears in the Clairemont Times at http://clairemonttimes.com/2017/07/27/potential-reduction-of-mts-bus-service-in-clairemont-surrounding-neighborhoods/

MTS is seeking public input until September 20, 2017. More information, including route on maps, proposed changes and an online comment form can be found at https://www.sdmts.com/inside-mts-current-projects/transit-optimization-plan

The final MTS hearing is on September 21.
For related posts, visit https://www.universitycitynews.org/category/transportation/