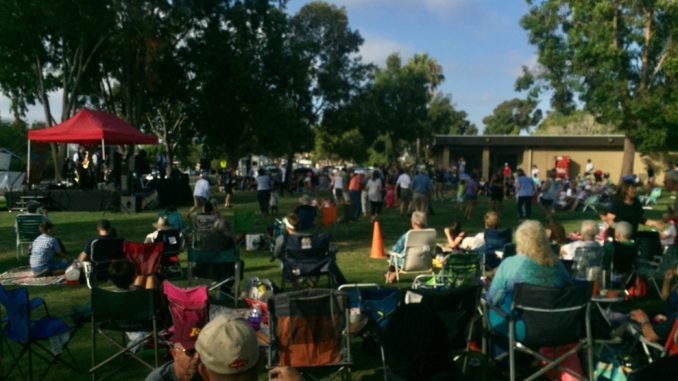 Take a look; were you there? Take a look at our slideshow from Sunday, July 30.
Remaining summer concert and music events include:
Tuesday, August 1, 5:30 – 7:30 PM – Dance Marathon – fundraiser to benefit SDPD
Sunday, August 6, 5 PM – Relative Minors and Friends–Classic Rock – with UC Resident Greg Zinser
Sunday, August 13, 5 PM – Teaser– Arena Rock – with UC Resident Rick Kern
Friday, August 18, 6 PM – Sully and the Blue Eyed Soul Band–Soul and R&B – with Radio & TV Host Bob "Sully" Sullivan
Friday, August 25, 6 PM – The Legends Show Band– 50's and 60's oldies
All concerts are at Standley Park, 3583 Governor Drive, University City, 92122
All concerts are subject to cancellation due to inclement weather.
Sunday concerts are from 5 to 7 PM
Tuesday dance marathon 5:30 PM
Friday concerts are from 6 to 8 PM
For more information contact the SPRC President and the Concert Committee:
John Schindel – jschindel1@san.rr.com
For related posts, visit https://www.universitycitynews.org/category/parks-recreation-dept/
For information about the 2016 Summer Concert Series, visit https://www.universitycitynews.org/2016-summer-concerts-in-standley-park/