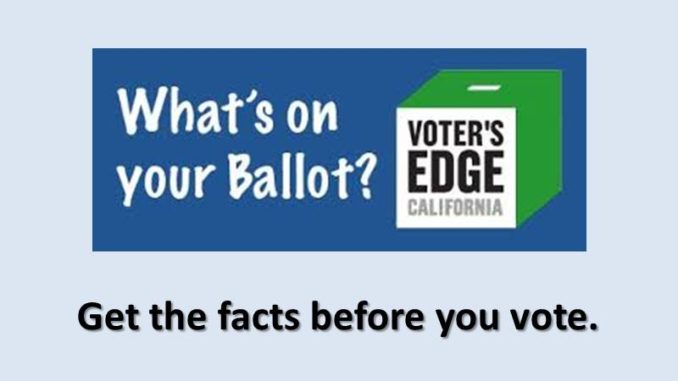 Sponsored by the League of Women Voters of California Education Fund (LWVCEF). Find in-depth information about what's on your ballot before you vote. With Voter's Edge California, voters can:
Access their ballot by entering their address and/or zip code.
Get in-depth information on candidates, measures, and who supports them.
View candidate biographies, top priorities, answers to questions, photos, policy videos, endorsements, and detailed information about who funds their campaigns.
Browse unbiased explanations of ballot measures; find out who supports, opposes, and funds them.
Check where, when, and how to vote, including information on their local polling locations.
Keep track of their choices to make voting easier.
Share information about the election with friends and family.
For more information, visit https://votersedge.org/en/ca
Voter's Edge California is a comprehensive, nonpartisan online guide to elections covering federal, state, and local races in the state of California and is a joint project of MapLight and the League of Women Voters of California Education Fund (LWVCEF). For more information, visit https://votersedge.org/en/ca
For more election information from the San Diego Registrar of Voters, visit https://www.countynewscenter.com/important-deadlines-for-june-election/