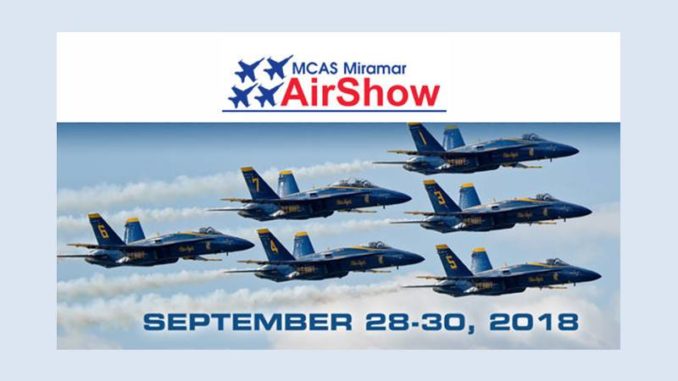 This year's Miramar Air Show theme is 100 Years of Women in the Marine Corps. The 2018 MCAS Miramar air show gives the public and current service members an opportunity to honor the 100 years that women have served in the Marine Corps by celebrating their accomplishments and recognizing their contributions to the Corps.
The air show also provides visitors the opportunity to see Marine Corps, Navy, Air Force, Army and civilian aircraft spanning 70 years as well as to get a firsthand look at Marine Corps tactical equipment.
While the Air Show performance dates are Friday to Sunday, September 28-30, military and civilian aircraft are expected to be seen and heard in the skies above University City and surrounding areas from Wednesday, September 26 to Monday, October 1.
Wednesday, September 26 – Aircraft arrival
Thursday, September 27 – Air Show practice
Friday– Sunday, September 28-30 – MCAS Miramar Air Show
Monday, October 1 – Aircraft departure
The Miramar Air Show is free and open to the public. For more information and the complete schedule of events, visit www.miramarairshow.com
See also TravelHost San Diego magazine cover story at http://sandiego.travelhost.com/
---
From Diane Ahern, Miramar Community Leaders Forum: If you have questions about operations at MCAS Miramar and you are on Twitter, I suggest you follow @3rdmaw, @1stMEF, and @MCASMiramarCA – the Twitter feeds for the third Marine Aircraft Wing, the first Marine Expeditionary Force, and MCAS Miramar. The social media accounts of many organizations are often monitored in real time. Follow University City Community Association @UCCA_SD
For related posts, visit https://www.universitycitynews.org/category/miramar/