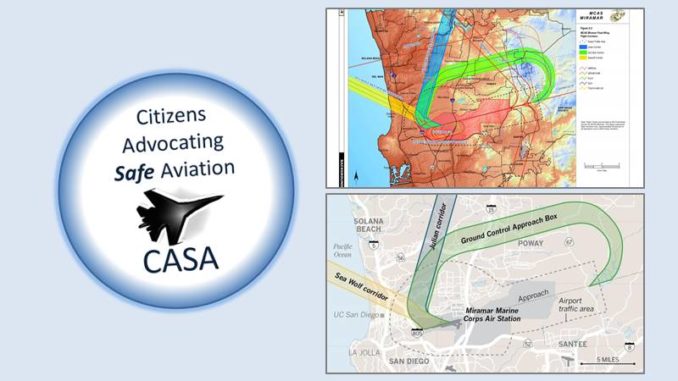 Citizens Advocating Safe Aviation (CASA) is a watchdog group that came together as a result of the December 2008 F-18 fatal crash that took the lives of four neighbors in University City (https://www.universitycitynews.org/c-a-s-a-citizens-advocating-safe-aviation/).

At the December 8, 2018, Victims' Memorial and Tree Dedication (https://www.universitycitynews.org/memorial-and-tree-dedication-to-honor-victims-of-fighter-jet-crash/), representatives of MCAS Miramar Kristin Camper and Captain Matthew Gregory (from Miramar's community plans/liaison and communications offices) asked CASA representatives to substantiate community claims that Miramar aircraft departing Miramar airport are not permitted to fly west of the 805 until north of Carroll Canyon Road.
On January 7, 2019, we, as CASA representatives, sent an email response to Kristin Camper and Matthew Gregory with 8 specific assertions about DoD mandated Miramar flight operations derived primarily from the current DoD Flight Information Publication (FLIP AP/1).
We stated our assertions in a memo which is attached here as a PDF document at https://www.universitycitynews.org/wp-content/uploads/2019/01/CASA-ResponseTo-MCAS-Miramar-re-FLIP.pdf.
We also attached applicable excerpts from the DoD FLIP AP/1 document in a 2nd PDF attachment at https://www.universitycitynews.org/wp-content/uploads/2019/01/DoD-FLIP-13SEP18-KNKX-excerpts.pdf

MCAS Miramar plays a vital role in the operations, training and readiness of our military forces and is proudly supported by our community. It's our belief that adherence to existing procedures will enhance the safety and efficiency of operations and training at MCAS Miramar with no reduction in readiness or increase in costs.

At the same time, that discipline will enhance the safety of surrounding communities while also reducing noise impacts. While our focus is on safety, we know that the procedures and regulations, when followed, also yield a reduction in perceived noise.
So we're not advocating any changes to current operating procedures or airspace organization at MCAS Miramar. To the contrary, we believe that the existing procedures are well designed. The airspace over San Diego County and our air traffic control system are a masterpiece which responds well to the varied demands placed on it when procedures and regulations are followed.

We are Citizens Advocating Safe Aviation. We encourage all users of our shared airspace to follow the rules. We look forward to a fruitful dialog with Kristin Camper and Captain Gregory and MCAS Miramar command and are prepared to answer any questions with regard to this memo and the assertions we've made.

From Stephanie Jed and Ron Belanger, signing for CASA – Citizens Advocating Safe Aviation
For related posts, visit https://www.universitycitynews.org/category/miramar/