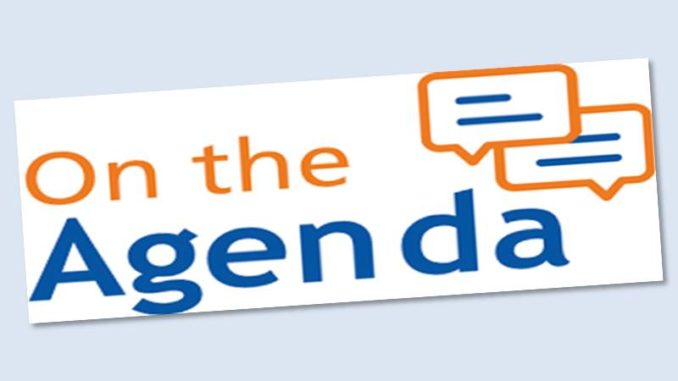 This month's meeting will feature a presentation to UCCA's Corporate Partners Scripps Health, Westfield UTC, and Regency Centers/Costa Verde. Residents will also learn about the newly organized U.C. Democratic Club from Sammantha Hurst; a report about the Dec. 8 Crash Memorial and Tree Dedication from Pia Mantovani-Sud; C.A.S.A. Citizens Advocating Safe Aviation update/letter to MCAS Miramar from Diane Ahern; UCPG/Community plan committee from Katie Rodolico and Deanna Ratnikova; and Community Spring Clean-up/Planning from Diane Ahern.

Ongoing agenda items include updates from community and legislative representatives such as the Police and Fire departments and local elected leaders. Each meeting includes an Open Forum during which interests and concerns may be expressed.

If you have an agenda item to suggest or would like to speak during open forum, please use the Contact Us link at https://www.universitycitynews.org/ or email us at universitycitynews@gmail.com.
Meeting agenda (preliminary): UNIVERSITY CITY COMMUNITY ASSOCIATION (UCCA), Wednesday, January 9, 2019, GENERAL MEETING, at the University Community Library 4155 Governor Drive.
5:30 – 6 PM – Networking; meet and greet neighbors
6:00- Welcome, Pledge of Allegiance
Approval of November minutes, (vote)
Approval of agenda, (vote)
*Special presentations to our corporate partners Scripps Health, Westfield/UTC, Regency Centers/Costa Verde
6:15- San Diego Police/ San Diego Fire/Rescue
6:25- Legislative representatives
6:40- Treasurer's Report, electronically sent, (vote)
6:45- Membership Report- Hallie Burch
6:50- President's Remarks- Barry
6:55- OPEN FORUM-*speakers (3-5 minutes)
U.C. Democratic Club- Sammantha Hurst
Dec. 8 Crash Memorial report- Pia Mantovani-Sud
C.A.S.A. -update/letter to Miramar, MCAS-Diane
UCPG/Community plan committee- Katie/Deanna
Community Spring Clean-up/Planning -Diane
6.. other….
7:10- COMMITTEE REPORTS:
1, Banners/Podcast Grants-Diane/Jemma
Neighborhood Watch- Barbara G.
Christmas Tree/Menorah Lighting-Barbara H.
Town Council Coalition- Mack
Standley Park Advisory/Rec.- Diane
Newsletter- Barry/Diane/Hallie
Beautification-Merle
7:30- OLD/NEW BUSINESS :
7:45- Adjournment-Next Meeting, Wednesday, Feb. 13