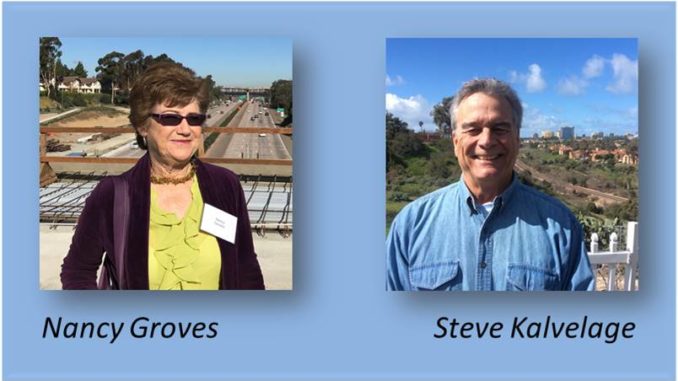 There is one contested position for the University City Planning Group (UCPG) for a Resident Representative District One position in University City. UCPG meets Tuesday, March 12 from 6 PM to approximately 9 PM, at 10300 Campus Pointe Dr., 2nd Floor, above the Green Acre Restaurant. Per UCPG bylaws, voting is from 5 PM to 8 PM with no requirement to stay and attend the meeting that evening. Voting takes place in the upstairs lobby next to the meeting room. There's a free parking lot with lots of open parking adjacent to the building.
Candidates are incumbent Nancy Groves and challenger Steve Kalvelage.
Steve Kalvelage: Hello University City, my name is Steve Kalvelage and I would like your vote for the current available position on the University City Planning Group representing Residential District One in University City. I purchased my home in UC 6 years ago and have very much enjoyed the community ever since. I am retired and have time available to spend on planning issues for our community. I have worked at a number of jobs but the majority of my working life was 32 years as an Environmental Specialist for Sacramento County.
As an Environmental Specialist I was involved with county wide health issues ranging from zoning violations to being part of the response team for Rancho Seco Nuclear Power Plant. I also represented the Health Department on the County Subdivision Review Committee for five years and interacted with The Planning Department on zoning violations and lot approvals for development of septics and wells.
I was active in my previous community in Sacramento with school and youth athletic organizations including brokering an agreement between a local high school and the local ymca to rebuild and maintain a high school swimming pool that was scheduled for shutdown.
My children and grandchildren live on the same street as I and two of my grandchildren attend first grade at Curie Elementary. I have been involved with Curie Elementary School on painting projects and other support for teachers. With others I was involved in the development of a successful door to door campaign to generate signatures which helped convince the local recreation council to endorse the concept of a joint use park at Curie to replace the gravel playing field with grass. My priority for University City is that it continues into the future as a outstanding living and working community for future generations.
I would very much like to be part of the group that is continuing to have an impact in maintaining the outstanding community that it is University City. Please consider voting for me for the position on UCPG.
Nancy Groves: As a home owner and 45-year resident of south UC, I have represented District 1 for the past 6 years and would like to continue to see some projects to completion. I am currently involved with the UCSD Community Advisory Group (CAG) in giving input to the UCSD Long Range Development Plan, to be finalized by yearend. As a 41-year employee of UCSD, I am familiar with the stages of development of the university and its community interactions. The CAG and UCSD have worked together to improve transportation, biking, and parking around the campus and to complete Gilman bridge. Current construction on north campus of the Living/Learning Center with increased underground parking and a campus bike bridge to keep bikes off La Jolla Village Drive are evidence of the university's efforts. With the advent of the trolley to campus there will be more planning to continue.
In the past, I have fought to protect Rose Canyon open space and delete the bridge from the Community Plan. I have worked on the sub-committee planning Fire Station 50 on Nobel Dr., now being constructed, and urged UCSD to engage with the city in building a fire station on UC land, now in the planning stages.
I worked to protect the zoning requirements for the construction of the West End Project under construction on Regents Road. The first developer wanted ingress/egress directly onto Regents, the current developer wanted to build 14 houses on the 3-acre plot by not having front home setbacks, reducing the space between homes. Informing south University City residents of these proposed deviations to zoning, resulted in the developer agreeing to build only 9 houses, and no ingress/egress onto Regents Road.
My priority is to balance the wishes of the community, university, small businesses, bio- techs and developers while maintaining as much open space as possible to enhance our quality of life in south University City.
---
For related posts about UCPG, visit https://www.universitycitynews.org/category/ucpg/
For related posts about UCPG Elections, including voter eligibility, visit https://www.universitycitynews.org/2019/01/11/get-ready-to-vote-ucpg-university-community-planning-group-holding-elections-tuesday-march-12/