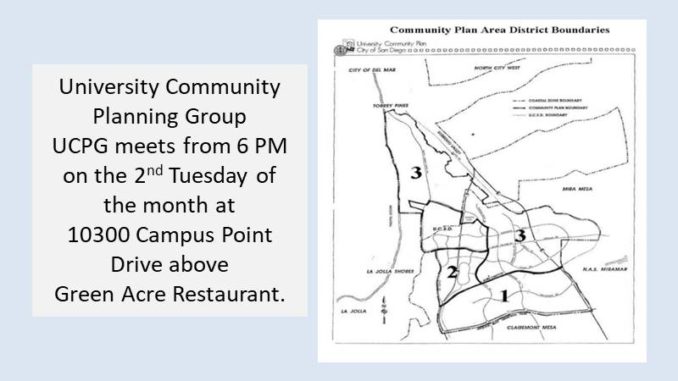 University Community Planning Group (UCPG) meets on Tuesday, May 14, 2019, at 6 PM at the Alexandria Building, 10300 Campus Point Drive, 2nd Floor Conference Room, San Diego, CA 92121. This month's meeting features a presentation by Colonel Charles Dockery, Commanding Officer, MCAS Miramar. Meeting is held in the same building as the Green Acre restaurant. The building has a large surface parking lot with no parking fee. Refreshments will be served. All are welcome to arrive early for networking.
6:00    1. Call the Meeting to Order:  Chris Nielsen, Chair.
Pledge of Allegiance followed by a Moment of Silence.
Agenda:  Call for additions/deletions:  Adoption.
Approval of Minutes:  April 9, 2019.
Election of Membership Secretary, selection of CPC Alternate.
Announcements:  Chair's Report.  CPC Report.
6:20    7.  Presentations:
* MCAS Miramar: Kristin Camper with Commanding Officer Col. Charles Dockery
Membership Report: John Bassler
SANDAG: Terry Martin/Dave Smith, MCTC
Plan Update Subcommittee: Andy Wiese, Chair. (May, June, July CPUS, 3rd Tuesdays 6 P.M.: Scripps Campus Point, Conference rooms A & B, first floor, 10010 Campus Point Drive)
Planning Department: Dan Monroe
Councilmember Barbara Bry: Bridger Langfur
Senator Toni Atkins: Chevelle Tate
Assemblyman Todd Gloria: Michaela Valk/Matt Gordon
Congressman Scott Peters: Erin Magee
Supervisor Kristin Gaspar: Corinne Busta
UCSD: Anu Delouri
Capital Improvements: Roger Cavnaugh, members of public
7:10    8.  Public Comment:  Non-Agenda Items (3 minute limit).
7:25    9.  Action Item:   Project #627161. Torrey Pines Science Park Landscape Renovation, Coastal Development Permit, Process 3.  Bernard Wenzig.
7:55  10.  Information Item:  CIP input from Board and Public.  Compilation of CIP project lists and discussion.  Final CIP list will be an Action Item in June.
8:25  11.  Cell Tower Subcommittee Report:  Roger Cavnaugh.
8:40  12.  Adjournment:  Next Meeting is June 11, 2019.
---
The full agenda in PDF form and more information is available on the City's website at https://www.sandiego.gov/planning/community/profiles/university/agendas 
To learn more about the University Community Plan update, visit https://www.universitycitynews.org/category/ucpu/
For related posts, visit https://www.universitycitynews.org/category/ucpg/
For posts related to MCAS Miramar, visit https://www.universitycitynews.org/category/miramar/