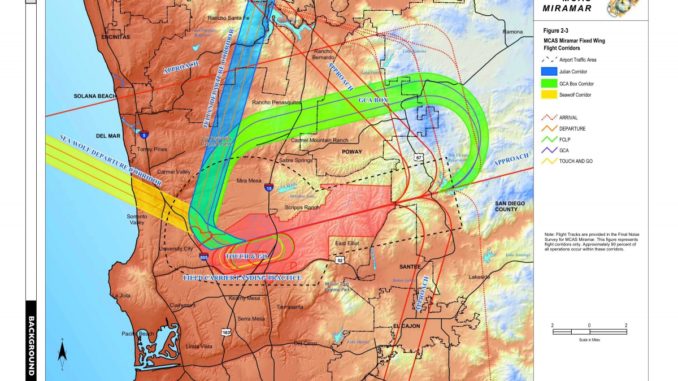 Update: the University Community Planning Group (UCPG) meets on Tuesday, May 14, 2019, at 6 PM at the Alexandria Building, 10300 Campus Point Drive, 2nd Floor Conference Room, San Diego, CA 92121. This month's meeting features a presentation by Colonel Charles Dockery, Commanding Officer, MCAS Miramar. Meeting is held in the same building as the Green Acre restaurant. The building has a large surface parking lot with no parking fee. Refreshments will be served. All are welcome. Agenda available at https://www.universitycitynews.org/category/ucpg/
---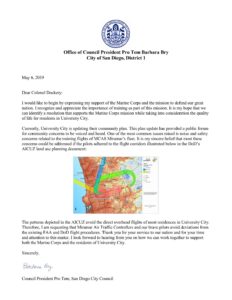 ---
Courtesy of Barbara Bry, Council President Pro Tem, San Diego City Council, "I have sent the following letter to the Marine Corps regarding flight patterns in University City:" [text below; PDF attached; letter dated May 6, 2019]
Dear Colonel Dockery:
I would like to begin by expressing my support of the Marine Corps and the mission to defend our great nation. I recognize and appreciate the importance of training as part of this mission. It is my hope that we can identify a resolution that supports the Marine Corps mission while taking into consideration the quality of life for residents in University City.
Currently, University City is updating their community plan. This plan update has provided a public forum for community concerns to be voiced and heard. One of the most common issues raised is noise and safety concerns related to the training flights of MCAS Miramar's fleet. It is my sincere belief that most these concerns could be addressed if the pilots adhered to the flight corridors illustrated below in the DoD's AICUZ land use planning document: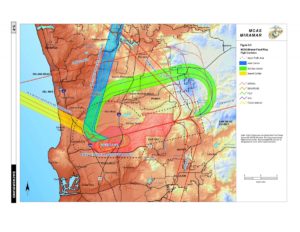 The patterns depicted in the AICUZ avoid the direct overhead flights of most residences in University City. Therefore, I am requesting that Miramar Air Traffic Controllers and our brave pilots avoid deviations from the existing FAA and DoD flight procedures. Thank you for your service to our nation and for your time and attention to this matter. I look forward to hearing from you on how we can work together to support both the Marine Corps and the residents of University City.
Sincerely,
[signed Barbara Bry]
Council President Pro Tem, San Diego City Council
---
Editor's note: Councilmember Bry announced her intention to send this letter at her May 4 community budget forum; and posted this letter on Nextdoor on May 6, 2019. UCCA thanks Councilmember Bry for listening and responding to resident concerns regarding overflights of aircraft from MCAS Miramar airport.
To download a PDF version of Councilmember Bry's letter, visit https://www.universitycitynews.org/wp-content/uploads/2019/05/Barbara-Bry-Letter-to-Cl-Dockery-19.5.6_Flight_Patterns_UC.pdf
For recent news and updates from UCCA related to MCAS Miramar, visit https://www.universitycitynews.org/category/miramar/
For MCAS Miramar Operations and Contact information, visit https://www.universitycitynews.org/mcas-miramar-operations-information-and-contacts/
For more information about Citizens Advocating Safe Aviation (CASA), visit https://www.universitycitynews.org/c-a-s-a-citizens-advocating-safe-aviation/
Q