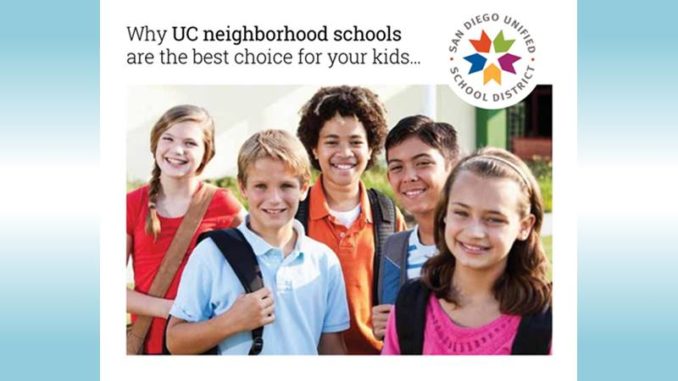 From John Lee Evans, San Diego Unified Trustee, District A: When it comes to our children's education, we face many choices from the day they enter preschool. At the K-12 level we can choose between neighborhood schools, charter schools and private schools. What some people do not realize is that we have award- winning schools in our own University City neighborhood. San Diego Unified is the second largest district in the state. For this reason we have divided our district into "clusters", with the University City Cluster of five schools being one of the smallest. A cluster is comprised of a high school and the middle and elementary schools that feed into it. University City schools represent some of the finest in the city. Families across San Diego are on waiting lists for University City schools; however, but University City residents are always given priority for enrollment. Please read a brief description provided by each school below. If you are not already enrolled, we encourage you to take a tour of your neighborhood school to see firsthand what we are talking about.
---
University City High School, www.sandiegounified.org/schools/university-city
Best described as a comprehensive high school, UC High School, traditional electives are offered, including performing arts and athletics, as well as College Career and Technical Education courses. Niche rates high schools across the country on academics, school safety, extracurricular activities and parent reviews. UC High received an "A" rating, making it one of the top high schools in San Diego. While students and families from across San Diego vie for enrollment in UC High, neighborhood students are guaranteed enrollment.
Biomedical Science pathway, one of the top programs in the state
Visual Arts and Technology Academy
Education, Child Development and Family Services pathway
New engineering pathway, including design, civil engineering and architecture
Information and Communications Technology, including AP Computer Science
Robust Advanced Placement program, rated in top category by US News
18 college courses taught on UC campus, the most in San Diego Unified
Award winning music programs
---
Standley Middle School, www.sandiegounified.org/schools/standley
William H. Standley Middle School, a California Distinguished School, is proud to serve the University City community. Standley has a diverse population by accepting students from across San Diego, but only UC resident students are guaranteed admission. Standley is very well known for its award-winning music program, including orchestra and band. Standley's music groups are often featured at community events.
Advanced mathematics classes
Rigorous Gifted and Talented Education Classes (GATE) for qualifying students
Homework Academy, Math Counts, Math Upgrade and AVID
Character development through Seahawk Sessions
Electives: Spanish, Computers/Coding, Music and Art
Clubs: Garden Club, Chess Club, Photography Club, GSA, Yearbook and ASB
Integrated 21st Century Interactive Classrooms (i21), latest tech and instruction
Quality Neighborhood Schools Award (QSiEN) for Positive School Environment
---
Curie Elementary School, www.sandiegounified.org/schools/curie
At Curie Elementary we are focused on cultivating and maintaining deep relationships across our community to empower our learners and maximize their individual and collective potential. We believe in teaching the whole child. We deliver comprehensive, meaningful, rigorous instruction. Our PTA provides funds for Art, Music, and PE consultants who work with our students weekly. We look forward to you joining our Curie Family. Together we will continue building a courageous community and courageous classrooms full of students and adults with Kind Hearts, Fierce Minds, and Brave Souls.
---
Spreckels Elementary School, www.sandiegounified.org/schools/spreckels
Spreckels Elementary School offers a culturally, linguistically diverse and rich learning environment that helps all students learn and grow. We understand the important work of education as addressing not just what students know, but who they are and are becoming as individuals. We pride ourselves on our academic work and building a sense of independence and self-reliance in all our learners. We also take great pride in our deep sense of community as evidenced in our wide array of school wide events. As a Spanish magnet, we offer Spanish Language Enrichment instruction to all our students 3-4 times a week for 30 minutes. We are always growing and improving at Spreckels.
---
Doyle Elementary School, www.sandiegounified.org/schools/doyle
Doyle Elementary is a proud member of the incredible UC Cluster Schools. In our culturally diverse school, students hail from over 30 countries and speak more than thirty languages and dialects. The mission of Doyle Elementary School is to provide a program with high expectations for academic achievement in a multicultural setting. We foster positive self-esteem through the collaborative efforts of staff, students, parents, and community. In addition, we believe all students deserve access to high quality teaching and learning every day, where students are intellectually engaged in critical reading, thinking, writing, problem solving, and meaning making. We work interdependently and positively in a collaborative environment to provide a world-class education for all the students we serve. Staff, parents, and community members work together focused on our mission, while fostering positive home, school, and community connections. Our positive school culture stems from a celebration of diversity, mutual respect, and common goals.
For related posts, visit https://www.universitycitynews.org/category/uc-cluster-schools/
---