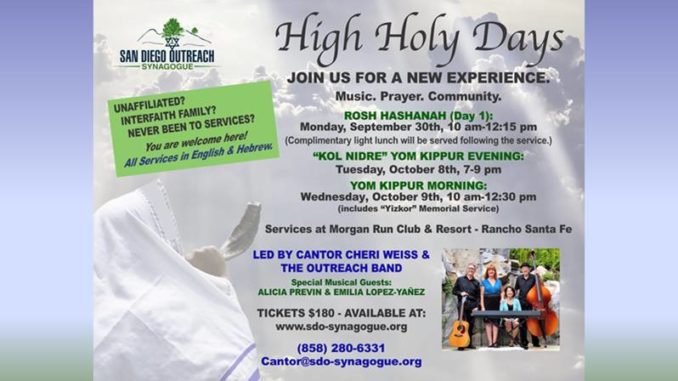 San Diego Outreach Synagogue (SDOS) will be holding unique, musical High Holy Days services open to the San Diego community in an exquisite setting at Morgan Run Club & Resort in Rancho Santa Fe. The schedule for these services is:
Rosh Hashanah morning: Monday, September 30; 10:00 AM – 12:15 PM, followed by complimentary vegetarian lunch
Yom Kippur evening (Kol Nidre): Tuesday, October 8; 7:00 – 9:00 PM
Yom Kippur morning (including Yizkor memorial service): Wednesday, October 9; 10:00 AM – 12:30 PM
The cost for High Holy Days tickets (including all three services) is $180 (or $120 for SDOS members) and may be purchased via the SDOS website at: www.sdo-synagogue.org. Those who prefer to pay by check may call: 858-280-6331 or email: Cantor@sdo-synagogue.org. (Note: anyone may participate in SDOS services and events, regardless of ability to pay.)
---
Founded in 2018, SDOS is an independent, egalitarian congregation blending creativity with tradition, led by Cantor Cheri Weiss and the Outreach Band. We welcome people of all ages, religious backgrounds, gender and sexual orientations.
The Outreach band includes pianist Diane Benaroya, bassist Rocky Smolin, and guitarist Dan Weiss. High Holy Days services will also feature guest musicians Emilia Lopez-Yañez on oboe & vocals (on Kol Nidre evening) and Alicia Previn on violin (on Yom Kippur morning).
SDOS holds monthly musical Friday evening Shabbat services in North University City, followed by vegetarian potluck dinners. Later this fall, SDOS will also be offering two adult education classes: Introduction to Judaism and Jewish Philosophy/Mysticism.
The next SDOS musical Shabbat service and dinner will be on Friday, September 6, from 5:45 to 8:00 PM. Details regarding location of SDOS Shabbat services is provided upon registration. SDOS will also be holding a musical Selichot service and dinner at a private home on Saturday evening, September 21.
To register for these musical High Holy Days and Shabbat services and all SDOS events, and for membership information, please visit: www.sdo-synagogue.org or call 858-280-6331.
San Diego Outreach Synagogue is a 501(c)3 non-profit organization.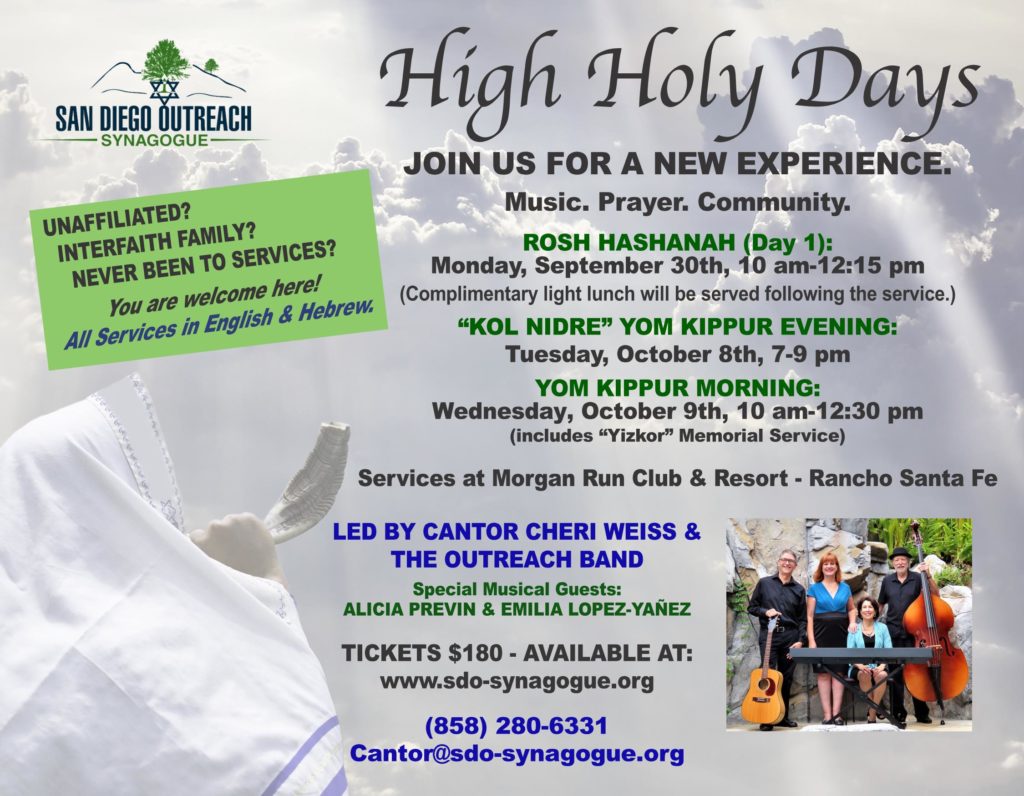 ---
For more information about Sponsored Posts and the three ways that UCCA can help promote your business, visit https://www.universitycitynews.org/2017/09/15/promote-your-business-when-you-advertise-in-the-university-city-newsletter/