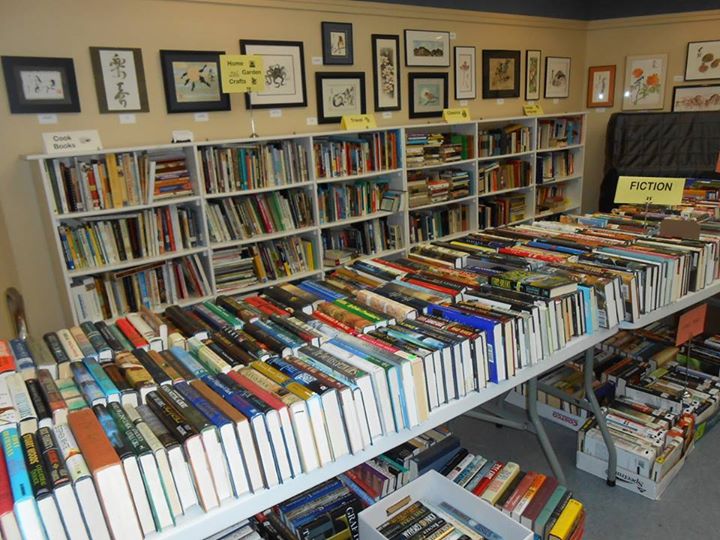 Looking for a good book? There's one more day to stock up on books for Fall reading. The last day to shop at the the Friends of the University Community Branch Library is Saturday, September 28, from 9:30 to 5:30 pm, at the Community Library, 4155 Governor Drive. Stock up on children's books, language and travel books, hardcover and paperback fiction for all ages. Find a great cookbook or discover some long-lost favorite movies on VHS or DVD – all at great prices
Some of you may be wondering how the money raised by our book sales benefits your library. Each year the UC Friends raise about $12,000 from sales of donated books, media, puzzles, games and other items. Additional income is from memberships and monetary donations. As a result the Friends have been able to make a yearly contribution of between $14,000 and $16,000 to the City's Matching Fund program. The Match adds an additional 50% to Program and Material Funds which are used to pay for such things as eight weekly kids programs in support of the Summer Reading Program, 4 to 5 Oasis programs, about 12 concerts per year, 4 to 8 Zentangle sessions, Book Arts for kids and adults and such favorites as the Jewish Men's Choir.
In addition to programs, the Friends fund the two-week loaner (Leased) books. We also have purchased surge protectors with USB ports for patrons to charge cell phones and new enter and exit counters. In the past we have paid for the picture hanging wires in the Community Room and contributed to the purchase of the RFID book checkout readers. On the list for purchase next year is a new podium for the Community Room. Library Manager Melissa and Youth Services Librarian Larry are always ready to hear from your suggestions for future programs and activities.
None of this would be possible without the hard work of a team of dedicated book sorters/sellers. Our daily sales have become a steady source of income and stock is rotated regularly. Also, check out our display case. Always something new and unusual!
As always, we thank the neighborhood for their patronage and welcome their donations of lightly used books, DVDs, CDs, puzzles, games, etc. Please check to make sure items are in good enough shape to sell. If you would buy it, so would others. The Friends are always looking for volunteers to help us with the sales and other activities. Our meetings are at 4:00pm on the third Wednesday of every other month, are open to all. You will be most welcome. See you at the sale!
---
Information provided by Helen Lebowitz and the UC Branch Library Friends. You, too, can be a Friend. ask at the Check Out Desk.
For related posts, visit https://www.universitycitynews.org/category/library/