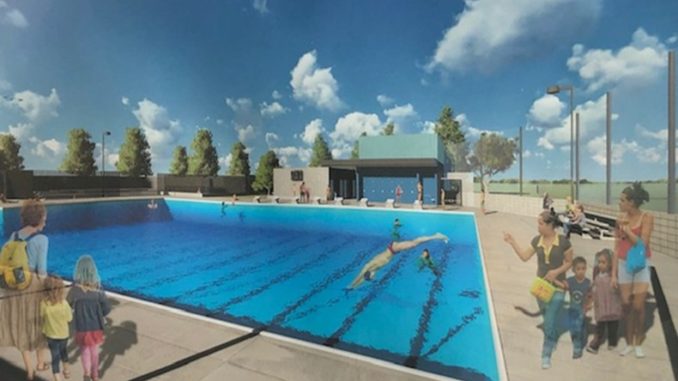 As submitted by John Lee Evans, San Diego Unified School Board President, Imagine UC 2020 is finally coming to fruition in the year 2020! The Imagine UC 2020 for the public schools (Standley Middle and Spreckels Elementary) project adjacent to Standley Park on Governor Drive was approved by the school board about two years ago. On February 11, 2020 the joint use agreement was unanimously approved by the city council with the strong support of our Councilmember Barbara Bry.
The next step will be to put the project out to open construction bid. We may have a groundbreaking as early as June if all goes according to plan. School district and city staff have worked hard on an agreement that will serve as a template for joint use pools in other neighborhoods of San Diego.
The fields between the Spreckels and Standley are on school district property and have been maintained by the city for decades. The city-owned land is around the Recreation Center, UCRC tennis courts and Swanson Pool (the current pool). We have had many decades of successful joint use. This will be the first time that a school district swimming pool (the aquatic center) has been added to a joint use project. (Swanson Pool will remain; the school district aquatic center will be a second pool at Standley Park.)
The project will include an aquatic center, a jogging path, a stage/pavilion and a grass field for Spreckels. It will be joint use between the city and the school district, because they will be used by students during school hours and open to the community the other hours. Within the scope of this project the school district will also modernize Spreckels Elementary and improve the drop off area and expand parking for the school and the park. This project will be followed by updating the Standley Middle School campus.
By combining school district and city resources, we are achieving efficient use of taxpayer dollars. We recognize that the long, uninterrupted public space from Standley Middle to Spreckels Elementary is a unique gathering place in University City. Our students will enjoy these facilities during the school hours. The community will be able to run or stroll along the jogging path, swim at the aquatic center, enjoy music and other performances at the stage/pavilion and play in the expanded grass fields.
---
Please note: This article was printed in the March 2020 University City News and has been reformatted sightly for publication on UCCA's news sites. To read the original article as published, visit https://www.universitycitynews.org/2020/03/03/march-2020-university-city-news-is-now-online/
For related posts from UCCA about the Imagine UC 2020 project at Standley Park, please visit https://www.universitycitynews.org/category/imagine-uc-2020/
For more information, visit the SDUSD School Facilities Projects Page for Standley Middle School at https://fpcprojects.sandi.net/Pages/Reports.aspx?SchoolName=9325