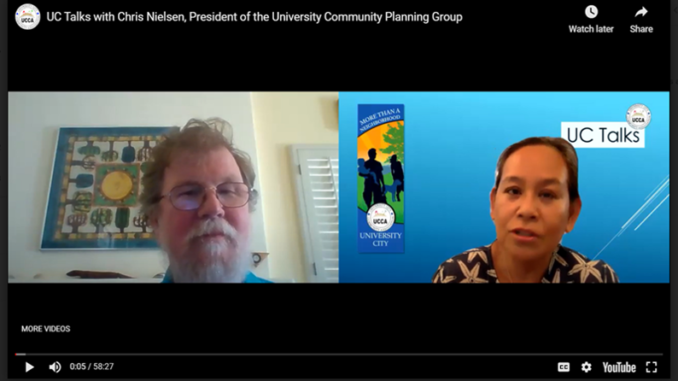 Chris Nielsen, president of the University Community Planning Group chats with UC Talks host Jemma Samala about the purpose and set up of the planning group. They also cover the process for the update of the University Community Plan, which was last updated in 1987. Current projects are also discussed, including the highly anticipated renovation of the Costa Verde center.
---
UC Talks is a hyper-local podcast that features conversations, interviews, and news of University City. UC Talks also includes readings of the University City newsletter. It's managed by University City Community Association (UCCA) and made possible, in part, by a generous Community Enhancement Program grant from the County Board of Supervisors. Our podcast host is newsletter editor Jemma Samala.
No special software is needed to listen; just click on the link, adjust the volume on your device, and click the play button. 
To submit an idea for an upcoming UC Talks podcast, please use the 'contact us' link at https://www.universitycitynews.org/contact-us-or-volunteer-in-uc/