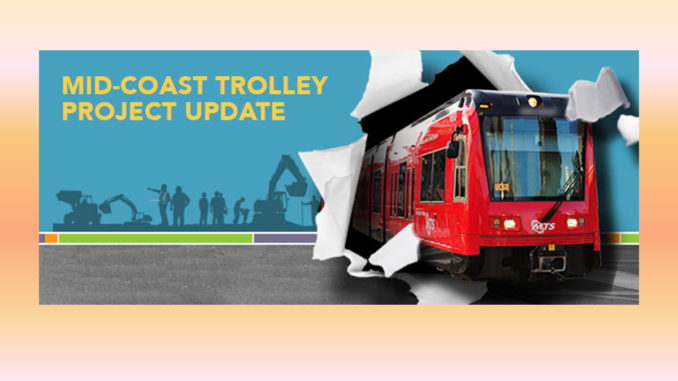 From Shift San Diego: The Shift program is dedicated to providing up-to-date information on major projects throughout the University City and La Jolla neighborhoods. Below is a summary of upcoming construction activities, intended for the City of San Diego's District 1 Council office and subsequent stakeholders. Please note, construction schedules are subject to change. For more information, visit ShiftSanDiego.com.
Mid-Coast Trolley Construction, SANDAG: Closures of the Executive Square driveway at Genesee were recently conducted from Thursday, March 18 through Monday, March 22. During the closures, crews demolished the roadway and poured concrete to replace a cross gutter. Concrete cross gutters are installed at the intersection of two roadways to help maintain drainage.
In mid-April, portions of Genesee Avenue will be closed between Regents Road and Nobel Drive for paving and striping. For more information, visit KeepSanDiegoMoving.com.
Pure Water Project, City of San Diego: Pure Water San Diego is the City of San Diego's phased, multi-year program that will provide one-third of San Diego's water supply locally by the end of 2035. As part of these phases for construction, the North City Pure Water Facility project is anticipating beginning construction in early April. The Morena Northern Pipeline and Tunnels project is expecting to begin construction subsequently in May. For more information, visit sandiego.gov/public-utilities/sustainability/pure-water-sd
Theatre District Living and Learning Neighborhood, UC San Diego: UC San Diego's Theatre District Living and Learning Neighborhood began the first stages of construction in January and will include five buildings ranging in height from nine to 21 stories to provide approximately 2,000 new beds for undergraduate students, residential life and administration offices for a new college, general assignment classrooms, a 480-seat auditorium, meeting space, restaurants and retail space for approximately 900,000 gross square feet total. For more information, visit plandesignbuild.ucsd.edu/projects/current.html
---
For related posts from UCCA, visit https://www.universitycitynews.org/category/transportation/