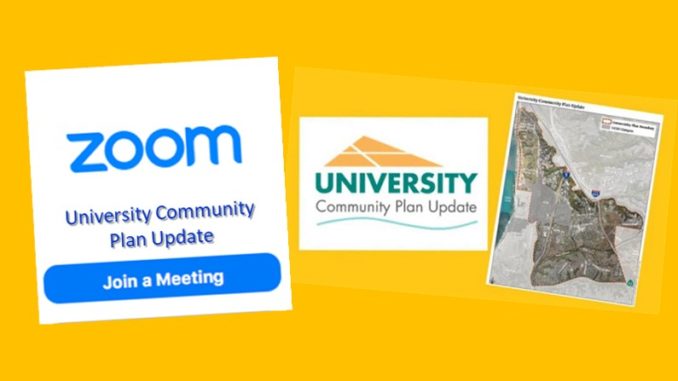 From City Planner Katie Witherspoon: Register Now the July 20, 2021, University CPU Subcommittee Meeting at 5:30 PM. You are invited to join the City of San Diego Planning Department for a live webinar of the University Community Plan Update Subcommittee on Tuesday, July 20th from 5:30 to 7:30pm.
The project team will provide an overview of Public Space Opportunities, including Regents Road north and south, Governor Drive, and trolley locations. This will include breaks for discussion and feedback.
To view the agenda or register, click the links below or visit www.PlanUniversity.org/meetings.
To view previous meeting materials and meeting recordings, please visit www.PlanUniversity.org/materials and scroll to the bottom of the page.
For more information, visit our website or contact Katie Witherspoon, AICP at KatieW@SanDiego.gov
For related posts, visit https://www.universitycitynews.org/category/ucpu/