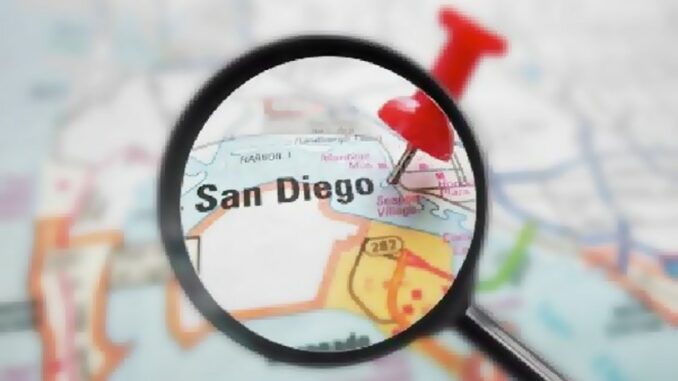 The Redistricting Commission Special Meeting of Thursday, November 4, 2021 at 5:30 p.m. has been adjourned to Tuesday, November 9, 2021 at 5:30 p.m. The live broadcast will be publicly available on the following Zoom webinar link: https://sandiego.zoomgov.com/j/1617973886; and by phone at 669-254-5252 (Webinar #1617973886)
In lieu of in-person attendance, members of the public may submit their comments using the Public Comment form at https://www.sandiego.gov/city-clerk/redistricting-commission-appointing-authority-public-comment-form, and indicating the agenda item number they wish to submit their comment for. Instructions for word limitations and deadlines are noted on the form.
---
​In case you missed it, here's background and a summary of Thursday night's meeting from the SD Union Tribune:
Momentum continues to grow behind a proposal to dramatically redraw San Diego City Council district boundaries to strengthen the voting power of Asians, Latinos and Blacks. The proposal, the San Diego Communities Collaboration Map, was rejected by the city's Redistricting Commission last week when the volunteer panel gave preliminary approval to a map proposing less aggressive boundary changes. But the volunteer panel reversed itself Thursday night (11/4/2021) when it voted 5-4 against a proposal to continue moving forward with that less ambitious preliminary map, which the panel calls the Chair's Map.
The Collaboration Map would sever UC San Diego from La Jolla and move the university into a newly drawn District 6 where 41.1 percent of the voting-age residents would be Asian.
The Chair's Map, which would leave UCSD in District 1 with La Jolla, would increase the voting-age Asian population in District 6 from about 34 percent to 38.3 percent.
Read the Union-Tribune article published 11/5/2021 at: https://www.sandiegouniontribune.com/news/politics/story/2021-11-06/boundary-changes-focused-on-minority-voting-power-gaining-momentum-in-san-diego
---
After the Special Meeting of Tuesday, November 9, 2021, the next Special Meeting will be on Saturday, November 13, 2021 at 2 p.m.