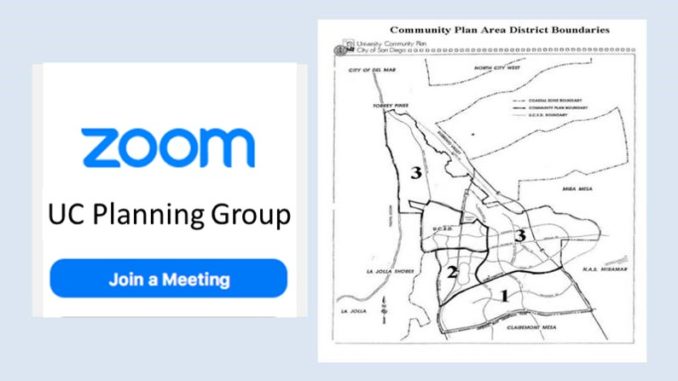 From UCPG Chair Chris Nielsen: The University Community Planning Group (UCPG) will meet on Tuesday, November 9, 2021, at 6 PM via Zoom. At the beginning of the Nov 9 meeting, the UCPG board will vote and select a new member for UCPG board seat R1-A. The four candidates are: Thomas Feerick, Tom Hekman, Karen Martien, and Lou Rodolico. Each gave a candidate statement at the UCPG meeting on October 12, and each submitted a written candidate statement for this meeting, attached here:
Instructions for accessing the Zoom meeting are posted on the formal agenda and at the end of this post. The agenda is also posted on the City's website at https://www.sandiego.gov/planning/community/profiles/university/agendas Below find a summary of the agenda items.
Item 8 is an action item to continue virtual meetings by a vote of the board each month. Public health reasons must be cited. The action would be to hold January's meeting by zoom. I would like to tentatively plan to return to in-person meetings beginning in February 2022.
Item 9 is an action item to grant an Extension of Time for a tentative map to split the Aventine parcel into two. This map was approved at the UCPG meeting on November 14, 2017. The presentation: 2021_11_09_Aventine_CPG_Presentation – 1
The section of applicable UCPG minutes is:
Action Item: The Sporting Club, PTS 527398 PDP, Tentative Parcel Map. Presenter: Tomas Romero presenting for John Leppert, Leppert Engineering
Submitted a year ago and suggestion was to do a PDP.
Map discussed identifying that they do not have street frontage. c. Parcel map with deviation to street frontage reviewed.
Will take one lot and make it two.
Location: La Jolla Village Dr. and Lebon.
Change needed for financing.
Is site built to full limit? Yes.
Sporting Club does not touch street and PDP would allow that.
Would deviation allow grant of further development? Yes, but they would have to come back and request that.
Parcel lines reviewed on aerial drawings.
Motion: Motion to approve change by MB and seconded by PK. Vote: 13 in favor, 1 against, 2 abstentions, motion Passed.
Item 10 is an action item for a project recommendation for a Wireless Control Facility located at the Hilton Hotel, Torrey Pines, 10950 North Torrey Pines Road. The presentation: AT&T Hilton Wireless Control Facility -SS0074_CPG Presentation_11.01.21 – 1
Item 11 is an action item for the Alexandria Real Estate project "Science Village", located at 9363, 9373, 9393 Towne Centre Drive. The UCPG has heard an information item and a Community Plan Amendment Initiation on this project when it was known as "Podium 93". The project is a rezone from the underlying RS-1-14 zone (with "Nexus" CPIOZ overlay) to an EMX-2 mixed use zone. This involves a demo of an existing three-story building with replacement by two four story buildings with three levels of below grade parking. Uses will consist of Research and Development lab space with office and retail totaling 369,878 square feet in 3.97-acres. ARE is asking for a final project recommendation. The presentation: Science Village Project – 211109_Science Village_UCPG Presentation – 1
Item 12 is an action item that is a follow up to "One Alexandria Square", 3010 Science Park Rd. and 3033 Callan Rd., that the UCPG recommended for approval on June 8, 2021. ARE is proposing a project change to remove the existing 10975 N. Torrey Pines building and replace it with a new building. Total project GFA will remain the same. Development Services has requested the UCPG reconfirm the project recommendation to approve the project. The presentation: 211109 One Alexander Square UCPG Update – 1
---
To join the meeting, drag-and drop this URL into your browser or follow the link: https://us02web.zoom.us/j/83804091050?pwd=UDVhZjhWSFQxemVUUW5Qb3lvZHZIQT09
Meeting ID: 838 0409 1050
Passcode: 016704
To dial in from your phone:
Find your local number at https://us02web.zoom.us/u/kcKSXbX866; and follow the directions given.